USD/CHF was consolidating throughout August, and actually formed a triple top when price broke below 0.9030-0.9040 support last week. However, this price top did not result in any significant bearish correction as price held around 0.9015, respecting the 200-period Simple moving average in the 4H chart, and the rising trendline from July. 
Price came back to the 0.9070 area, which was the middle pivot and where the 100-, and 50-period SMA resided. That basically showed lack of bearish commitment, though there was still a question of whether price was in further consolidation, or was ready for bullish continuation.
Today, USD rallied after the release of US data, which included soft but expected inflation data, and surprisingly strong US housing data. The USD rallied across the board, and the USD/CHF popped up above the brief consolidation around 0.9070, signaling bullish continuation.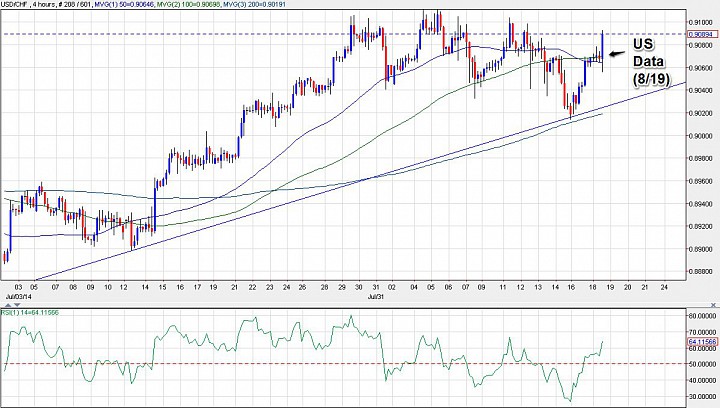 (USD/CHF 4H Chart 8/19)
The USD/CHF also held above a rising trendline from May as you can see on the daily chart. You should also note that 4H RSI has tagged below 30, but is popping back above 60 today, which reflects loss of bearish momentum. 
The daily RSI reading has tagged 70, and since held above 40, which reflects maintenance of the bullish momentum. So, we have short-term momentum turning non-bearish, and medium-term momentum staying bullish. With price action also respecting key support factors and rallying, we should look for price to test the 0.9115 high on the month, with upside risk even further toward the 0.9156 high on the year.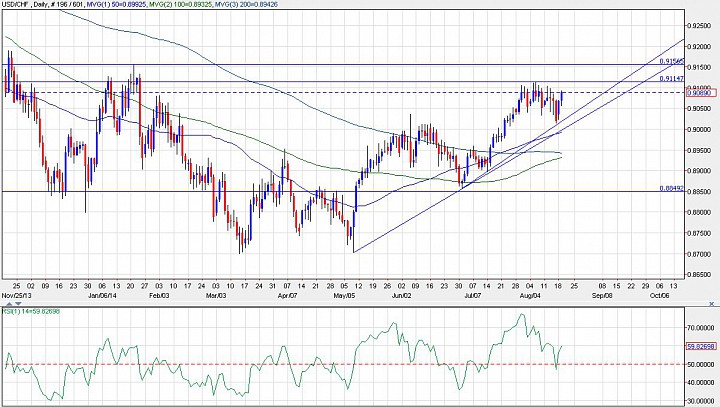 (USD/CHF Daily Chart 8/19)
Failure to break above 0.9115, and a return below 0.9050 however would suggest further consolidation/bearish correction.