In the history of electronic trading, no company has been as successful as this paradigm-changing market maker, which operates in more venues than it has employees.
A computerized voice rang out on Virtu Financial's New York trading floor one Friday morning in late May: "Something's wrong." This was the Watcher, an automated program the electronic market-making company created to alert risk managers when any of the millions of orders it places on a given day go awry. In this case, Virtu had entered into a $1 million currency contract but then decided to cancel the order. While it took only 700 microseconds to get confirmation that the trade was on, the cancellation hadn't been acknowledged by the exchange within five seconds, triggering the Watcher's Stephen Hawking-like voice.
That morning, the Watcher had already flagged another issue on an order at an African stock exchange. A bit later it directed risk managers to investigate two trades on a European energy market. Virtu often trades as many as 5 million times a day. Amid that ocean, it's built its risk-management systems to catch even these few errant drops of water.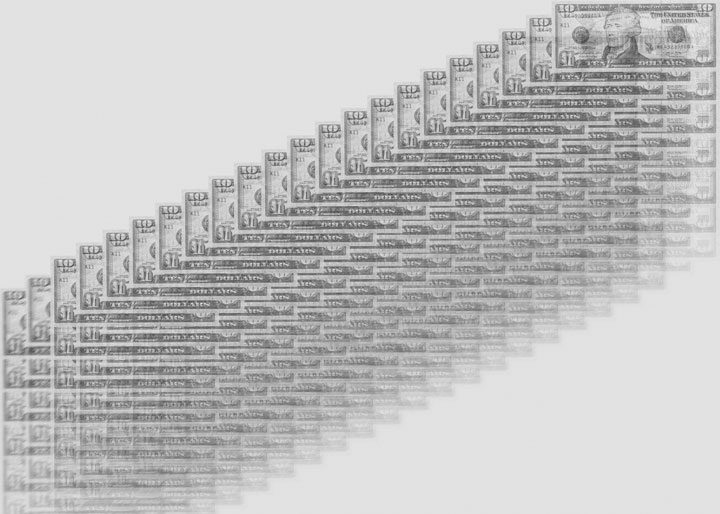 If this precision and attention to detail feels militaristic, that's because it is. Vincent Viola, who founded Virtu in 2008, graduated from West Point and came of age jumping out of airplanes for the U.S. Army's 101st Airborne Division, also known as the Screaming Eagles. He named the company Virtu for the Latin word "virtus," peppers his speech with such terms as duty and mission, and instills in his employees the type of devotion more common on a battlefield than in a boardroom. And like anybody who flings himself from the back of a C-130, Viola values two traits above all: trust and efficiency. "I've tried to re-create that in my Wall Street experience," he says during a rare interview at a Manhattan cafe in June.
Viola's principles have not only transformed how markets operate in an increasingly computerized era; they've also made his company—with its market value of $2.4 billion—part of Wall Street's new guard, one that's risen as power and profit have shifted away from traditional gatekeepers such as JPMorgan Chase and Goldman Sachs since the financial crisis. Virtu and other relative newcomers, including Jump Trading, DRW Holdings, and Citadel Securities, as well as smaller, nimbler enterprises, are filling voids created by new regulations and technologies.
Virtu's combination of microscopic electronic surveillance, lightning-fast algorithms, and rigorous risk management also explains why this relatively small company has become the most consistently profitable market maker in the history of electronic trading. "The discipline they apply to the wholesale market-making game is different than other firms," says Rich Repetto, an analyst at Sandler O'Neill & Partners.
The consistency with which Virtu earns a profit is almost beyond belief. From 2009 to 2014 it lost money on only one day. (The aberration happened when it missed a special dividend payment for a stock, throwing off its model and causing a seven-figure loss.) In 2014, the last year it disclosed its daily win-loss ratio, Virtu was in the black every day, generating revenue of $723.1 million and net income of $190.1 million.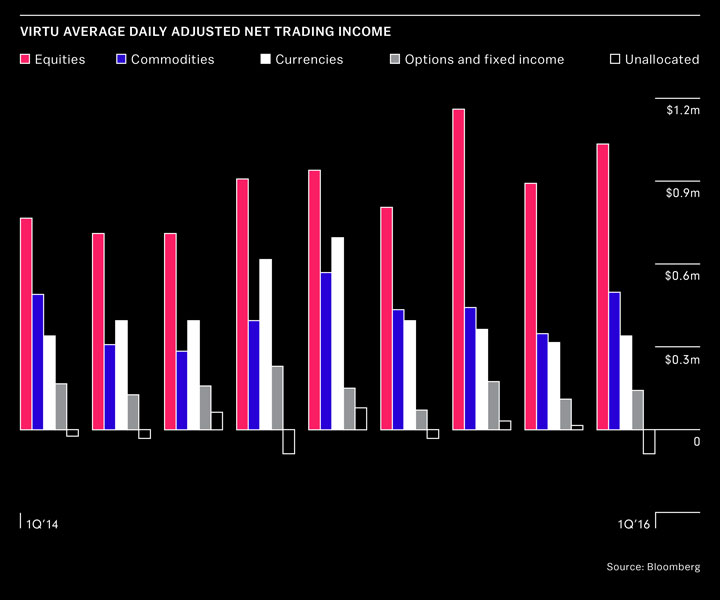 Rather than go for big trades that could blow up and lose a lot of money, Virtu prides itself on making small amounts—as in $10—millions of times a day. Between the Watcher's sporadic warnings on that Friday in May, the company was making markets in gold exchange-traded funds and futures. Over a series of 23 transactions in Chicago and New York, it earned all of $36. "They're consistently profitable in an area that's not known for that," Repetto says. Profitability, however, hasn't prevented the company's share price from slumping since its initial public offering in 2015.
What the company wants to do over and over is to sell to buyers and buy from sellers, not take positions of its own, and either hedge its risks at the end of the day or go home with no risk at all. It does this with stocks, currencies, futures, and fixed-income securities. All told, Virtu makes markets in more than 12,000 financial assets. The ruthless efficiency at its core is most evident when you consider that it trades on more markets (230-plus venues in 35 countries around the world) than it has employees (148 at the end of 2015).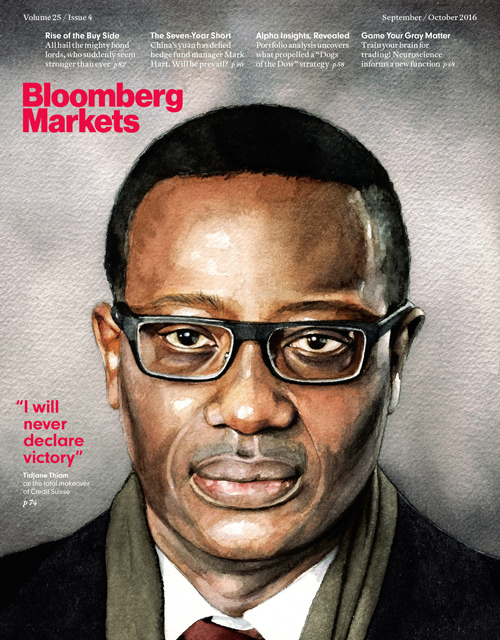 Viola wears gray cotton pants and a black Dockers shirt, hardly a uniform that would make fellow cafe-goers on the Upper East Side notice that in their midst is a man worth $2.3 billion, according to the a>
More