After missing estimates in the second quarter of 2017, Big 5 Sporting Goods Corporation's BGFV third-quarter earnings were in line with the Zacks Consensus Estimate, while top line was marginally short of the consensus mark. In fact, third-quarter results also matched the company's guidance.

Markedly, shares of this sporting goods retailer gained 7.9% in the after-hours trading session following the quarterly earnings. However, the stock has plunged 30.2% in the past three months, wider than the industry's decline of 10.3%.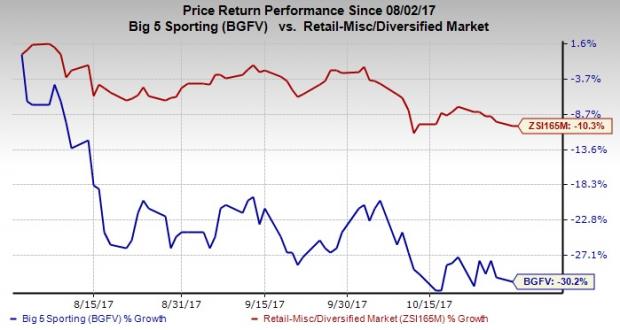 Q3 Numbers

Big 5 Sporting's adjusted earnings of 28 cents per share was in line with the Zacks Consensus Estimate. This compares unfavorably with 38 cents in the year-ago quarter including 3 cents per share on account of store closing costs. Lower sales and soft margins hurt earnings growth on a year-over-year basis.
Net sales dipped 3.1% to $270.5 million and marginally lagged the Zacks Consensus Estimate of $271.4 million. The year-over-year decline can be attributed to comparable store sales (comps) that dropped 2.9%, as against increase of 6.8% in the year-ago period. Further, cycling of benefits from the closure of nearly 200 rival stores in third-quarter 2016, impacted top line growth. A tough and promotional retail backdrop as well as weakness in its firearm related business also hurt sales.
Big 5 Sporting started off with a marginal decline in comps in July, continued to decline in mid-single digits in August and low single digit range in September. The decline in August comps is mainly attributed to adverse weather comparison. At product categories, comps declined marginally in its apparel and footwear categories while the hardgoods category remained soft posting a mid-single digit decline.

However, as anticipated, sales in the quarter slightly benefited from the calendar shift of Jul 4 Holiday. Also, the company maintained a significant portion of the market share gains owing to prior year's competitive store closures.

Costs & Margins

Gross profit came in at $87.5 million, down 2.7% from the prior-year quarter. Meanwhile, gross margin expanded 20 basis points (bps) to 32.4% in third-quarter 2017. Gross margin growth was driven by a 51 bps improvement in merchandise margins, which was somewhat compensated with increased store occupancy cost as a percentage of sales.

Selling, general and administrative (SG&A) expenses, as a percentage of sales, rose 130 bps to 28.6%. On a dollar basis, SG&A expenses increased about 1.5% to $77.4 million, mainly owing to higher employee labor and benefit-related costs as well as information technology and services associated costs.

Consequently, the company's operating profit of $10.2 million decreased about 25% from the quarter a year ago. Also, operating margin contracted 110 bps to 3.8%.

Financial Position

Big 5 Sporting had cash of $5.3 million, long-term debt of $46.4 million and total stockholders' equity of $203.5 million as of Oct 1, 2017.

Dividend & Share Repurchase

Big 5 Sporting remains committed to returning cash to shareholders by paying dividends and share repurchases. Management also announced a quarterly cash dividend of 15 cents per share, payable on Dec 15 to shareholders on record as of Dec 1, 2017.

In the third quarter, the company bought back 666,609 shares for about $6.8 million. For the year-to-date period through October 1, 2017, Big 5 Sporting has repurchased 677,109 shares for nearly $6.9 million.

As of Oct 1, 2017, the company had about $16.5 million remaining to be repurchased under its $25 million share buyback program.

Store Update

During the reported quarter, Big 5 Sporting shut down one store and ended the quarter with 432 stores.

In the fourth quarter, management plans to open three stores. Further, it expects to introduce six stores following the closure of three stores in 2017.

Guidance

Moving ahead, management expects a tough and highly promotional retail landscape over the holiday season. Evidently, its comps have declined in the low mid single digit so far in the fourth quarter.

For fourth-quarter 2017, the company anticipates comps to decline in the low-single-digit range. Moreover, it envisions earnings in the band of 16-28 cents per share versus 35 cents earned in the prior-year quarter. The Zacks Consensus Estimate for the same quarter is currently pegged at 31 cents, which is likely to witness downward revisions.

Zacks Rank & Key Picks

Big 5 Sporting carries a Zacks Rank #3 (Hold). Better-ranked stocks in the broader Retail sector include Zumiez Inc. ZUMZ, DSW Inc. DSW and Five Below, Inc. FIVE. While Zumiez and DSW sport a Zacks Rank #1 (Strong Buy), Five Below holds a Zacks Rank #2 (Buy). You can see the complete list of today's Zacks #1 Rank stocks here.

Zumiez, with a long-term earnings growth rate of 18%, has pulled off an average positive earnings surprise of 27.1% in the trailing four quarters.

DSW, with a long-term earnings growth rate of 6.3%, has delivered an average positive earnings surprise of 14.3% in the trailing four quarters.

Five Below, with a long-term earnings growth rate of 28.5%, has come up with an average positive earnings surprise of 8.7% in the trailing four quarters.

More Stock News: This Is Bigger than the iPhone!

It could become the mother of all technological revolutions. Apple sold a mere 1 billion iPhones in 10 years but a new breakthrough is expected to generate more than 27 billion devices in just 3 years, creating a $1.7 trillion market.

Zacks has just released a Special Report that spotlights this fast-emerging phenomenon and 6 tickers for taking advantage of it. If you don't buy now, you may kick yourself in 2020.

Click here for the 6 trades >>
Want the latest recommendations from Zacks Investment Research? Today, you can download 7 Best Stocks for the Next 30 Days.
Click to get this free report
Zumiez Inc. (ZUMZ): Free Stock Analysis Report
DSW Inc. (DSW): Free Stock Analysis Report
Big 5 Sporting Goods Corporation (BGFV): Free Stock Analysis Report
Five Below, Inc. (FIVE): Get Free Report
To read this article on Zacks.com click here.
Zacks Investment Research