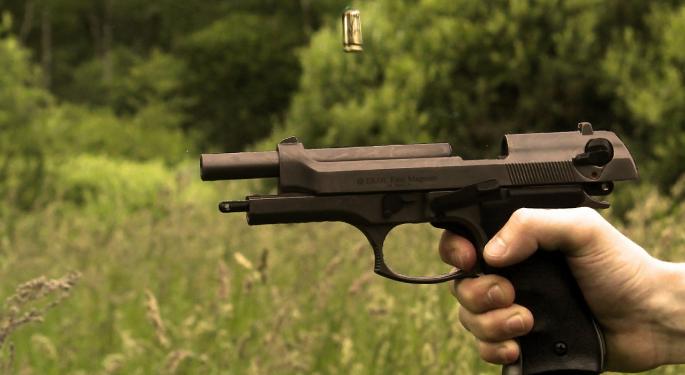 Before reports were even in for December 2016, firearm background checks for the year had already surpassed the previous annual record by more than 1.5 million. By the time the final numbers came in, 2016 beat out 2015 by a 2.9-million margin.
With 52,306,187 total checks, every month saw year-to-year increases of more than 108,000 checks, with the highest difference in January at 773,008. Month-to-month trends for 2016 were less stable, with four of the months boasting fewer checks than their forerunners.
FBI records indicate a positive growth trend in year-to-year background check counts. The number of checks increased 11.2 percent between 2001 and 2006 and about 39 percent over the next five years. This translates to a five-year increase of 68.5 percent and a 10-year increase of 80.8 percent.
How Gun Stocks Have Reacted
Here is how some of the gun-related stocks have responded to the trends:
Smith & Wesson Holding Corp NASDAQSWHC stocks saw a marginal increase of $0.19 throughout December, a loss of about $1.55 throughout 2016, and a significant five-year rise of $16.35.
In November, gun stocks had fallen immediately after President Donald Trump's election. Future policies may influence the charts throughout the coming term.
© 2017 Benzinga.com. Benzinga does not provide investment advice. All rights reserved.