With the S&P 500 trading above 2,000 for the first time, chartoftheday.com put together an interesting chart that shows just how significant the rally is compared to ones in the past.  Since the 2011 correction that saw a drop of 19.4%, the S&P has rallied 91% since October of that year.  As the chart shows, the current rally is slightly below average in magnitude but above average in duration.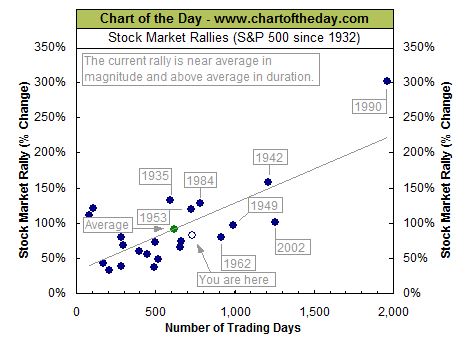 For the purposes of this chart, they have defined a major stock rally as an S&P gain of 30% or more following a correction of at least 15%.  The S&P 500 was not adjusted for inflation or dividends and the rallies are labeled by the year they started.  
In the 23 rallies, since 1932, the current rally would rank 7th in duration.  

This spreadsheet breaks down the S&P by sector market cap.  According to Brian Gilmartin, who writes for Seeking Alpha, the majority of sectors within the S&P 500 are "overbought" if you measure risk by the percent of stocks trading above their respective 50-day moving averages.
It's important to understand that sector weightings can be a good barometer for market risk.  Two of the most volatile sectors in recent years, technology and financials, make up 35% of the S&P 500 combined.
As the rally gets longer and longer, it's good to put in perspective how it compares to other rallies and where the risk may lie.