CSRA Inc. CSRA recently announced that it has completed the acquisition of Alexandria-based NES Associates for approximately $105 million. This is the company's first acquisition since it went public in Nov 2015.

At the time of announcement, Lawrence Prior, Chief Executive Officer (CEO) of CSRA stated that "NES has hands-on expertise with nearly every military base network infrastructure, both CONUS and OCONUS and this experience can directly translate to other security-sensitive customers, such as Homeland Security as well as the intelligence community."

The acquisition will improve the CSRA's expertise in defense telecom, infrastructure and applications architecture as well as implementation services. We believe that the tuck-in acquisition will help the company to win new contracts going forward.

Moreover, the acquisition is expected to be slightly accretive to fiscal year 2018 results. However, we don't anticipate it to provide significant impetus to the stock price at least in the near term.

Dim View on New Business Wins Hurts Shares

Despite numerous award wins in first-half 2017, CSRA has underperformed the S&P 500. While the stock returned 0.2%, the index gained 7.8% on a year-to-date basis.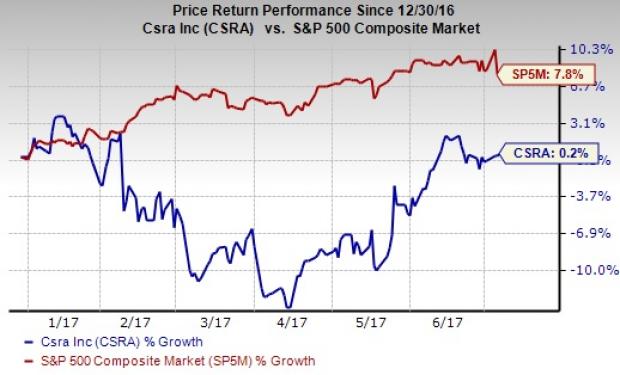 The underperformance can be attributed to the sluggish new business win rate projection – 25% versus 35% – for this fiscal. New business revenue (almost 7% of total revenue) guidance was also lower than the original fiscal 2017 guidance.
CSRA Inc. Revenue (TTM)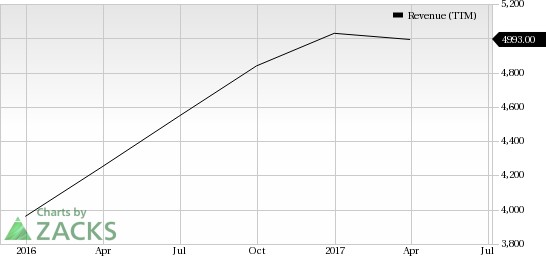 In addition to the lacklustre outlook, uncertainty over the renewals of the National Security Administration's (NSA) Groundbreaker program and the Transportation Security Administration's (TSA) Information Technology Infrastructure program is a potential headwind.

Moreover, delay in awarding the Greenway program is a concern. We do expect sluggishness in award procurement to continue in the near term (at least over the next two quarters), due to numerous ongoing transitions within the Trump administration.

Balancing Capital Allocation, Partnerships: Key Catalysts

CSRA's capital allocation plan during the time of its spin-off from Computer Sciences Corp –now known as DXC Technology DXC – was aimed at 50% debt reduction, 40% shareholder return and 10% to merger & acquisition. However, since the spin off, the company actually spent 79% on reducing debt and 21% on shareholder returns. The company didn't spend anything on acquisitions till NES.

We note that in the last reported quarter (fourth-quarter fiscal 2017) CSRA spent $20 million to pay off debt and $16 million on dividends. As of Mar 31, 2017, the company had $2.58 billion in debt as compared with $2.78 billion as of Apr 31, 2016.

Management now expects to pursue a more balanced approach in terms of capital allocation. CSRA now expects to use half of its free cash flow to lower debt, which is prudent in our view.

Gartner Places CSRA in Global Top 100 List

Notably, market research firm Gartner recently named CSRA in its annual list of the Global Top 100 IT Vendors in 2016.

The recognition reflects CSRA's deep domain knowledge and expertise in next-generation IT services, which is aiding it to win new contracts on a regular basis. In first-half 2017, the company won contracts from the likes of Defense Information Systems Agency (DISA), Naval Sea Systems Command (NAVSEA), and the U.S. Air Force.

Further, CSRA's strong partner eco-system that enables it to offer both Microsoft MSFT Azure and Amazon Web Services to customers is a key growth driver in the long haul.

Zacks Rank & Key Pick

CSRA currently carries a Zacks Rank #4 (Sell). EPAM Systems EPAM sporting a Zacks Rank #1 (Strong Buy) is a better-ranked stock worth watching in the same sector. You can see the complete list of today's Zacks #1 Rank stocks here.

Long-term EPS growth for EPAM is currently pegged at 20%.
Today's Stocks from Zacks' Hottest Strategies
It's hard to believe, even for us at Zacks. But while the market gained +18.8% from 2016 - Q1 2017, our top stock-picking screens have returned +157.0%, +128.0%, +97.8%, +94.7%, and +90.2% respectively.
And this outperformance has not just been a recent phenomenon. Over the years it has been remarkably consistent. From 2000 - Q1 2017, the composite yearly average gain for these strategies has beaten the market more than 11X over. Maybe even more remarkable is the fact that we're willing to share their latest stocks with you without cost or obligation. See Them Free>>
Want the latest recommendations from Zacks Investment Research? Today, you can download 7 Best Stocks for the Next 30 Days.
Click to get this free report
EPAM Systems, Inc. (EPAM): Free Stock Analysis Report
CSRA Inc. (CSRA): Free Stock Analysis Report
Microsoft Corporation (MSFT): Free Stock Analysis Report
DXC Technology Company. (DXC): Free Stock Analysis Report
To read this article on Zacks.com click here.
Zacks Investment Research