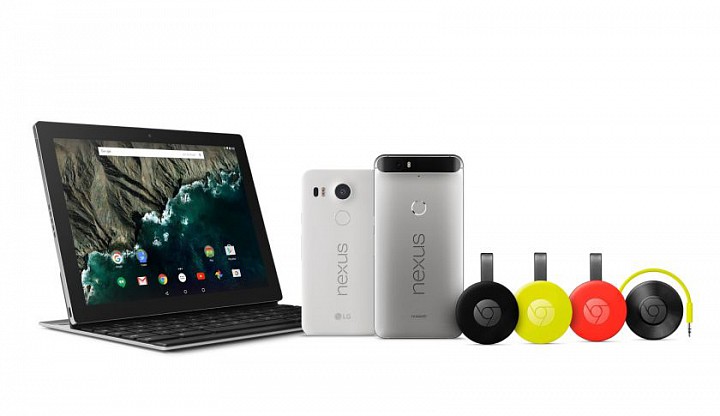 At its annual fall event, Google revealed two new Nexus smartphones, an Android tablet, and new Chromecast devices.
On Tuesday, Google GOOGL -0.26% unveiled two new Nexus smartphones, a pair of Chromecast devices, and an all-new Android tablet called the Pixel C.
As previously reported, the new Chromecast improves Wi-Fi capabilities, and brings Google's streaming solution to speakers for the first time. Both devices are available today for $35.
Two similar, but different Nexus devices
As expected, Google revealed two new Nexus smartphones at its annual event. Both devices, now available for pre-order, will begin shipping in late October and come with Android 6.0 Marshmallow pre-installed.
The LG-made Nexus 5X is the less expensive of the two, starting at $379 for a 16GB model. Beneath the device's 5.2-inch, 1080p high-definition display is a Qualcomm Snapdragon 808 processor and 2GB of RAM. Users will also have the option to double storage to 32GB for an additional $50.
The Huawei Nexus 6P is larger and comes with a higher price tag to match. It starts at $499 for 32GB of storage, and goes up to $549 for 64GB, and $649 for 128GB. The device is equipped with a 5.7-inch quad-HD display, Qualcomm Snapdragon 810 v2.1 processor and 3GB of memory.
Both devices have a USB-Type C port for charging, a fingerprint reader on the back, a 12.3-megapixel rear camera, and quick charging capabilities.
Instead of placing the phone's fingerprint sensor on the front of the device, as Samsung SSNLF -2.78% and Apple AAPL -3.04% have traditionally done, Google opted to place add it to the back of the device. Officially called Nexus Imprint, the sensor sits...
More