Low risk 2% return on JAZZ. The stock won't move lower than $112 or higher than $173 by next Friday.

9 may 2016
Biotech sector is the most volatile sector right now. Do you remember RLYP surging on the M&A news and falling afterwards? GILD lost almost 15% over the last few weeks, INO is going up 10% today to name a few. I've been watching at JAZZ since last year, the company is going to report its earnings tomorrow after the closing bell.
It's absolutely clueless to make any forecasts about the stock price or earnings outlook, too many analysts have done it already. I don't want you to follow the analysts estimates, they usually inform you about significant moves afterwards. Such analysts are creating some chances for value investors and options traders. Value investors get a chance to go into the stock with a significant discount, options traders get a chance to earn some money on rising volatility.
Basically Jazz Pharmaceuticals has a very strong business, I analyzed their portfolio last year and it seemed very good. Unfortunately, the stock has dropped 17% since May 2015. The company reported its Q2 2015 results on August 5, 2015, Q3 2015 results on November 2015 and its annual results on February 23. The biggest move was after the Q3 2015 earnings, however, the company exceeded its EPS forecast by 36%. 
  <!== INSTRUMENT %% %1440% ==!>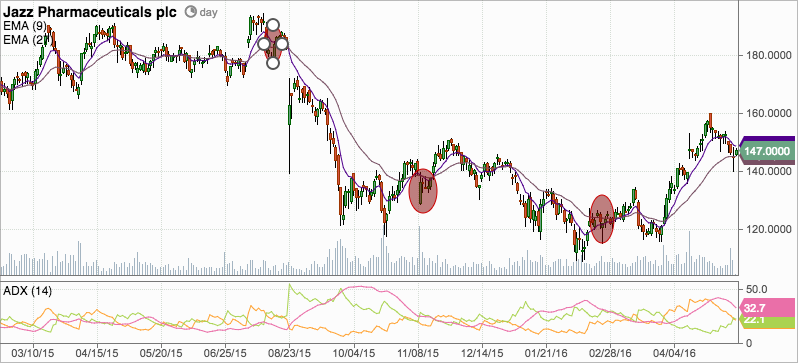 The company's fluctuations after the earnings didn't exceed 4-5%. The most important factor that makes biotech stocks moving is FDA meetings. According to the FDA tracker, there are no FDA meeting with Jazz drugs. It means that we won't see any significant moves in at least two weeks. 
There are some open interest in OTM options, I think that selling $170 call and $115 put expiring on May 20. The P&L profile in this case will look like this: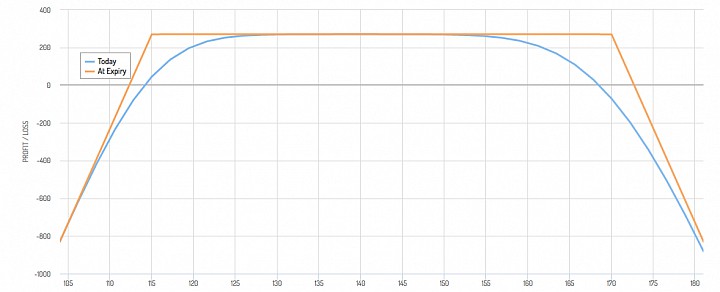 This strategy has two breakevens: at $112 (-24%) and at $173 (+18%). It means that if the stock moves down more than 24% or up more than 18% you start losing your money. That could be quite risky, but it will provide 2% return in just 2 weeks. 
If you don't want to take this risk, you can go long 100 shares and sell two puts - hedging the long stock and short call. That could decrease your risk, but it will decrease the return as well.
This is the forecast: press AGREE if you agree that the stock is going to stay in 112-173 range, vote DISAGREE if opposite. Let me know what you think about this strategy in the comments.
Voting is over
Waiting for


the right answer