When you have a long-term mindset, a stock's ability to appreciate quickly becomes a secondary consideration. Primarily, you're looking at what a business can do over decades to come. An appropriate component to a long-term portfolio is a stock that pays dividends, because payouts provide the juice to total returns.
We asked three contributing Motley Fool investors to identify companies they believe would reward investors with long time horizons with both income and capital appreciation. See how Gilead Sciences (NASDAQ: GILD) , Johnson & Johnson (NYSE: JNJ) , and Tailored Brands (NYSE: TLRD) could offer this winning combination.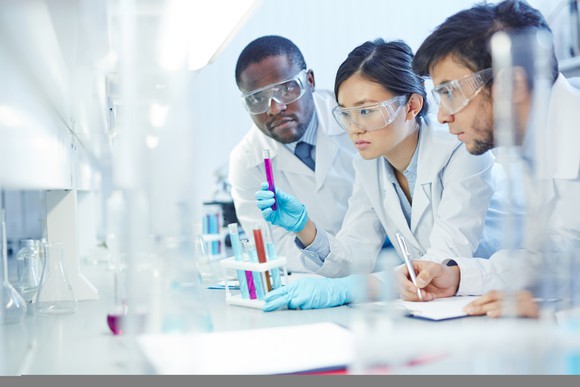 A beaten-down biotech with a rising dividend
Keith Speights (Gilead Sciences): The last couple of years haven't been fun for Gilead Sciences shareholders. The biotech's stock has plunged with slumping sales of hepatitis C drugs Harvoni and Sovaldi. Gilead's primary problem stems from a positive development: So many hep C patients have been cured by the company's drugs that new patient starts are declining.
But while Gilead stock has dropped, its dividend has increased. The big biotech first initiated a dividend program in 2015 and has increased its payout by 10% each year since then. Gilead's dividend yield now stands at 2.94%. The company currently uses just over 20% of earnings on funding the dividend, indicating plenty of room to keep the dividend hikes coming even with its hep C challenges.
Dividend-paying drug stocks like Gilead are well-suited for investors with long-term perspectives. When scenarios such as Gilead now faces come along, an opportunity opens up to buy shares at an attractive price and lock in great dividends. Long-term investors also understand that there's usually a light at the end of the tunnel for well-run companies. I think that's the case for Gilead.
The biotech has one of the largest cash stockpiles around -- and it intends to use it . Gilead's executives have underscored the company's goal to make one or more acquisitions to spur growth. While anxious short-term traders worry about how quickly Gilead will make a deal, long-term investors can...
More