With the non-farm payroll report due in just 30 minutes, here is your last-stop summary of what Wall Street is expecting from today's most important data release (for a more in-depth report of what Goldman is looking for, read here).
The big consensus picture:
July Payrolls expected to increase by 225K (range 140K to 310K), June was 223K, May 280K
Unemployment rate Expected at 5.3% ((range +/- 0.1%), same as June, and down from May's 5.5%
The most important data: average hourly earnings +0.2% (range +/- 0.1%), up from 0.0% in June
The expectations by bank are as follows:
Morgan Stanley: 200K
UBS: 205K
BNP Paribas: 210K
HSBC: 214K
Bank of America: 215K
Goldman Sachs: 225K
Deutsche Bank: 235K
JP Morgan: 240K
The visual histogram:

RanSquawk's preview:
July's nonfarm payrolls will be in strong focus following the FOMC rate decision last week with comments that an increase in interest rates will occur following "some further" improvement in the labour market. The consensus is looking for a small increase on the previous figure at 225K with unemployment forecast to remain unchanged. Unemployment previously fell which was attributed to employees leaving the workforce. Furthermore, both the monthly and yearly average hourly earnings figures are expected to rise on their previous release.

 

Analysts are highlighting the components of the report as crucial, which include the pace of jobs gains and income increases. Furthermore, the majority of analysts state that a figure below expectations could result in September no longer being considered for rate lift-off. Also noting that US challenger job cuts came in at 105.696K vs. prey. 44.842K, with the majority of those cuts coming from the military sector.

 

In terms of the recent labour data, continuing claims have risen off of their multi-year lows which could create concern for the Fed yet the employment component of ISM non-manufacturing printed 59.6 against June's 52.7. However, Wednesday's ADP release failed to meet expectations at 185K vs. Exp. 215K alongside revisions for July falling by 8K to 229K which could cause additional concern for the state of the labour market.
What a likely market reacttion would look like:
A strong NFP reading alongside increase in average hourly earnings could see the US yield curve steepen as investors affirm September as viable month for rate lift-off or generally bring forward rate hike expectations. The USD-index is likely to rise higher on the back of a good figure helping to maintain the upward trend. However, a miss on expectations is likely to cause investors to push back rate hike expectations after the mixed data out of the US, with December looking like a more likely date. Of note, futures markets are currently pricing in a 46% chance of a rate-hike in September.
Bloomberg's tracking of Twitter estimates shows a drop in recent expectations: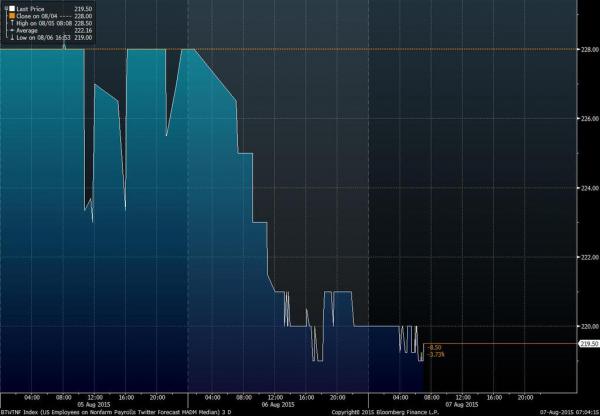 And what may be most concerning for the economic permabulls is the following tongue in cheek warning from Hilsenrath:
A Bad Jobs Report Still Might Not Shake Fed's View

 

The Labor Department's estimate of payroll increases also leaves the central bank with a fairly wide berth before officials second-guess their views. Payroll gains have averaged 208,000 a month so far this year, 245,000 over the past year and 220,000 over the past three years. Anything within that range presumably would live up to the Fed's recent assessment that the job market is producing "solid" job gains.

 

At the same time, numbers outside of that range seem unlikely to create much alarm without other confirming evidence that the overall trend is changing. Monthly payroll employment estimates are volatile. In the past 12 months, they have varied from 119,000 to 423,000. Looked at another way, the standard deviation of monthly changes over the past year is 75,000; that means that two-thirds of the time, payroll gains have been between 170,000 and 320,000.

 

A miss of, say, 150,000 on payroll growth from the consensus estimate might seem like a big deal at first glance. But in an economy with 142 million overall payroll jobs, a miss of 150,000 is a little more than one-tenth of 1%.
At the end of the day, however, only one thing really matters: the X-13 Arima seasonal adjustment model, aka the goalseeking process leading to whatever the final number should be.