The
EUR/USD
pushed to a new low during the 3/27 session, but held above the 1.37 level so far in the 3/28 session.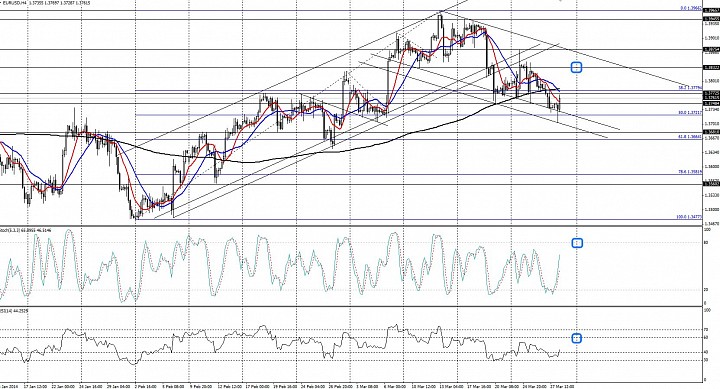 (EUR/USD 4H Chart)
Inflation data:
German Prelimary CPI data for March came in at 0.3%, which was lower than the 0.5% in February, and missed the 0.4% forecast. Deflationary risk has been a concern for the ECB, and Germany is the key economy in the EU. This should add pressure to the EUR.
Rebound:
However, the market is trading on a bout of risk appetite getting into the 3/28 US session, pushing down the USD and JPY. EUR/USD rebounded.
Another throwback:
If the EUR/USD rallies further, I would consider fading again, this time lower than the week's high of 1.3875, but closer to 1.3830-35.
Stoch-RSI, Falling resistance:
This bearish idea could be reinforced if the RSI is at 60 and stochastic at 80, while price also tags a falling resistance seen in the 4H chart.