Bullish Signal:
The NZD/CHF showed resilience last week when it rebounded sharply from 1) a rising trendline, 2) and the 200-day simple moving average.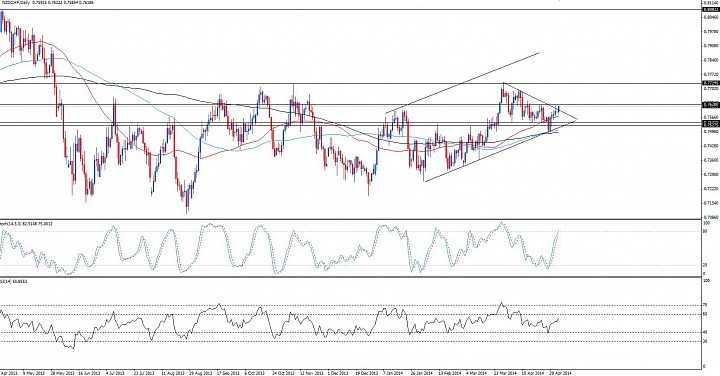 (nzdchf daily chart, 5/5)
The bullish outlook puts the 0.7730 resistance in sight. This is a 1-year consolidation resistance. There will likely be a bearish attempt if price stabilizes around 0.7730. 
Bracing for Bullish Breakout:
It should be noted that there is a bit more bullish development in 2014 then there was in 2013 when the market was in an expanding sideways consolidation. This bullish outlook should take at least a couple of weeks to develop, and if it does, it opens up the 0.8080 level for the rest of the year. 
Let's look at the 4H chart: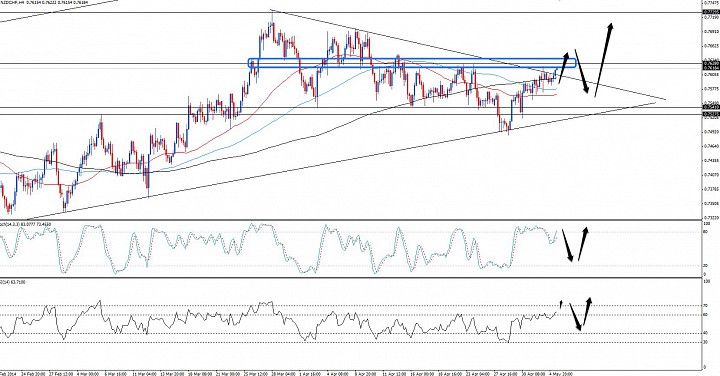 (nzdchf 4h chart, 5/5)
Buy on dip:
If the bullish outlook is to develop at least in the short-term, the 4H RSI should push above 60 and preferably above 80.
Price should also push above 0.7630. 
Then we might want to wait for a bearish attempt to buy from to avoid buying with overbought condition in the 4H chart. Wait for the RSI to come back to 40, and the stochastic back to 20. Then, traders should be ready for another bullish attempt in the short-term.