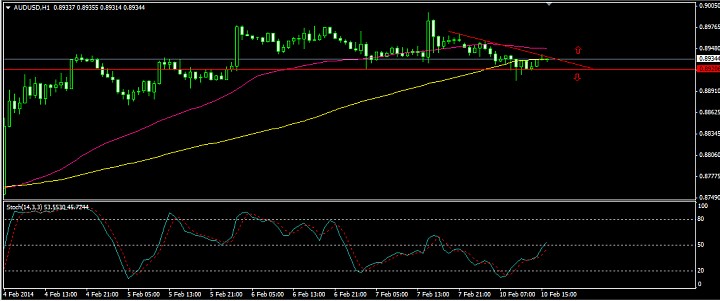 The AUD/USD is  trading lower ahead of National Australia Bank's (NAB) release of Business Confidence data and  the Australian Bureau of Statistics (ABS) release of both the House Price Index (HPI) and the Home Loans m/m data. All 3 key statistics are scheduled to be announced today at 7:30pm E.S.T.
As seen on the AUD/USD 1 hour chart, the pair is consolidating between the contracting support and resistance trend line. According to the descending triangle, the pair should continue to follow its downtrend by breaking the support trend line. 
However the breakout depends on the data released and whether it will beat the economists' expectations or not. If the data is strong, the AUD/USD might break the resistance trend line and reverse the downtrend. However if the data is weak, the pair will break the support and continue to follow the downtrend. 
The 50 Days and 100 Days Moving Averages seem to be contracting, and might cross each other giving a signaling a change in trend. If 50 Days Moving Average crosses 100 Days Moving Average thereby moving in a downward direction, the pair will fall.