Cheesecake (CAKE) has enjoyed a nice bull run from a low of 4.96 during the eye of the financial crisis to a height of 67.14 in May. Then, it started to consolidate. Then it went into bearish correction mode. This week, after a disappointing earnings report, it is extending that bearish correction mode. Because this is a correction against an 8-year bull run, CAKE has a medium-term bearish outlook.
CAKE Weekly Chart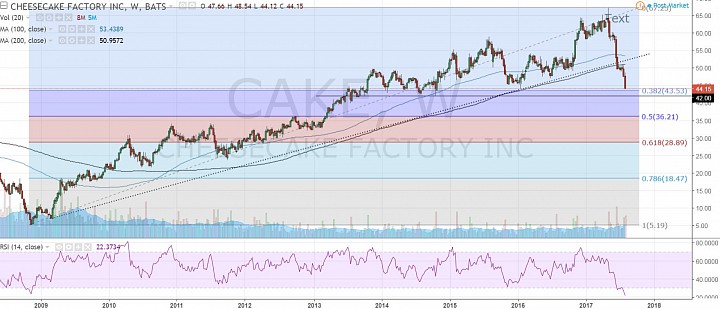 Some might play the contrarian card here to try to buy on this dip. I would be careful with that strategy. The bearish momentum of the recent months should be respected.
Here's recap of the earnings report from Nasdap.com.
Shares of The Cheesecake Factory Inc.CAKE declined over 6% in afterhours trading on Aug 2, after the company reported mixed second-quarter fiscal 2017 results. Further, a lowered fiscal 2017 outlook due to prevailing challenging restaurant environment led to the slump in the stock price.
Earnings and Revenue Discussion
Adjusted earnings of 78 cents per share surpassed the Zacks Consensus Estimate of 76 cents by 2.6%. However, earnings remained flat on a year-over-basis.
Sales of $569.9 million fell slightly short of the Zacks Consensus Estimate of $570.3 million but rose nearly 2% year over year.