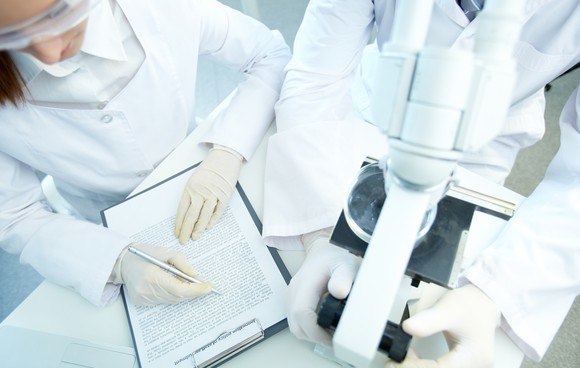 Up over 40% in just a little more than five months: That's the kind of year it's been so far for Inovio Pharmaceuticals Inc. (NASDAQ:INO) stock. The clinical-stage biotech announced its first-quarter results on May 9. Investors were less interested in what happened in the last quarter than they were in what's in store for the company in the days ahead. Here are five things management highlighted in Inovio's earnings call.
1. The phase 3 study of VGX-3100 is on track
Inovio's lead candidate, cervical dysplasia vaccine VGX-3100, appears to be right on track to begin a pivotal phase 3 study later this year. CEO Joseph Kim said that Inovio had "constructive" meetings with both U.S. and European regulators related to the end of phase 2 testing for the immunotherapy. The biotech is now finishing the details for the phase 3 study.
Kim stated that Inovio has pre-qualified nearly 150 trial sites in 25 countries. The company's manufacturing partners are already preparing to be ready for the late-stage study. Inovio anticipates that between 350 and 400 patients will participate in phase 3 testing of VGX-3100.
2. Interim results are coming this year for phase 1 studies of INO-5150 and INO-1400
VGX-3100 might be the main story right now for Inovio, but the biotech has other potential cancer drugs waiting in the wings. Kim specifically pointed out INO-5150. The immunotherapy is currently in a phase 1 study focusing on treatment of prostate cancer. INO-5150 targets antigens associated with prostate cancer: prostate-specific membrane antigen (PSMA) and prostate-specific antigen (PSA).
According to Kim, Inovio expects to complete enrollment for the phase 1 study by the end of June. He indicated that 60 patients will participate in the study. Inovio plans to announce interim results from the clinical trial by the end of 2016.
The company also expects to have...
More