Eros International plunged 79 percent from peak on Aug. 19
Eros International Plc said backing by its two largest investors Capital Group Cos. and Temasek Holdings Pte will help the Bollywood film producer counter short sellers who have pummeled its New York traded stock.
The shares tumbled 79 percent from its Aug. 19 record of $37.60 through Tuesday, making it the worst performer on the Bloomberg World Entertainment Index, after anonymous Twitter users and a blogger called Alpha Exposure cast doubt on the company's financials, the number of subscribers at its Eros Now digital service and its revenue derived from the United Arab Emirates. U.S.-based short seller Glaucus Research Group's Director Soren Aandahl on Nov. 5 said the company's shares are worth $0.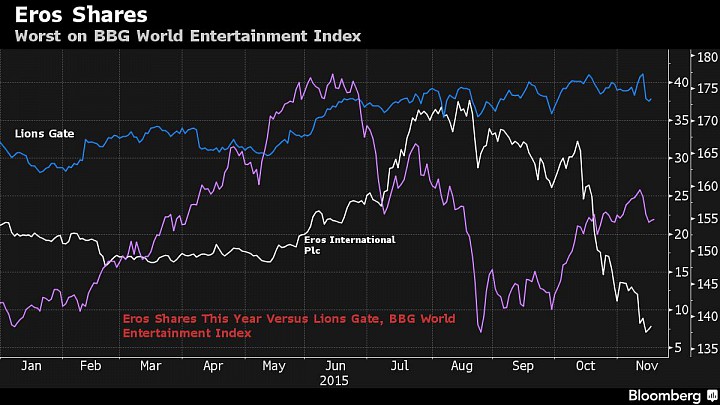 "We have rock solid shareholders, such as Capital and Temasek, who are standing by us like pillars and giving us good advice," Eros Chief Executive Officer Jyoti Deshpande said in an interview in her office in Mumbai on Wednesday. "They said just put your head down and get to work."
Shares at the company's Indian unit jumped a second day after Eros reported profit that beat analysts estimate. The producer of "Bajrangi Bhaijaan," featuring Salman Khan in the lead role, is focusing on expanding its Eros Now service, said Chairman Kishore Lulla. The digital platform has 30 million registered users and the company will be "happy" if it can convert as many as 10 percent into paying subscribers, he said.
Anonymous Blogger
"Eros's performance in the...
More