With Yelp Inc (NYSE: YELP) shareholders looking ahead to the company's Q2 earnings due out after the close on Tuesday, the latest data from TickerTags indicates Yelp's meal delivery business is struggling in a fiercely competitive landscape.
TickerTags monitor social media sites to identify trends by searching for words and phrases that appear together in social media content, such as tweets.
Ride sharing juggernaut Uber recently launched its own food delivery service UberEats into an already crowded space. In addition to Yelp's Eat24, other food delivery services include GrubHub Inc (NYSE: GRUB), EatStreet, Seamless and Postmates.
So far this year, organic social media mentions of "Eat24" are flat compared to last year, but they were down 33 percent sequentially in Q2 and down 21 percent year-over-year, indicating that Yelp's service may be trending in the wrong direction.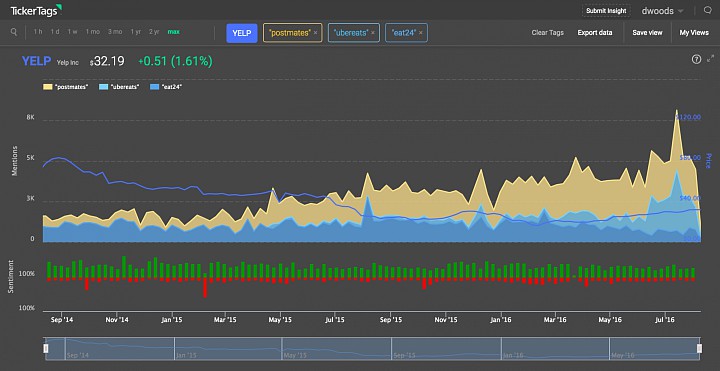 At the same time, organic social media mentions of rival services "UberEats" and "Postmates" were up 113 percent and 11 percent sequentially in Q2. In addition, mentions of the two Yelp rival services were up 1081 percent and 92 percent Y/Y.
The numbers seem to indicate that Yelp lost a significant share of the food delivery social media buzz in Q2. Investors are hoping that the trend didn't have a significant impact on the company's bottom line.
© 2016 Benzinga.com. Benzinga does not provide investment advice. All rights reserved.