Shares of Chipotle (CMG) made a new 52-week low last week when it fell to 353 to start the month. In November so far, CMG has rebounded to about 385.50. 

CMG 4H Chart 11/8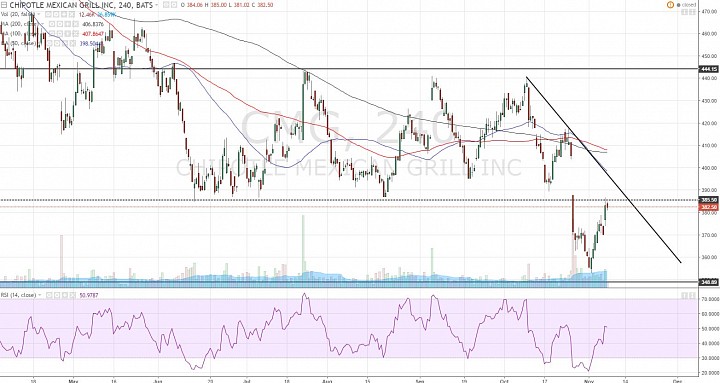 (click to enlarge)
Breakout and pullback:
- Looking at the 4H chart we can see that price action at the end of October broke below a consolidation range where support was at 385.50. 
- It should be noted that price was bearish entering that consolidation range, so the breakout was simply a sign of bearish continuation.
- Now, CMG's bullish swing is within this bearish mode. 
- So, we should monitor possible resistance factors with respect.
- For example, we can see that price is coming up to the previous consolidation range support area, which could turn into resistance.
- Also, there is a falling trendilne that should meet price if CMG extends the current rally this week to 390. 
- At this point, I think we can expect CMG to hold under 400, picking up sellers starting around 390.
- We can expect some consolidation here, but the pressure should remain towards the 345-350 area, which is a key support/resistance pivot seen on the weekly chart below.

CMG Weekly Chart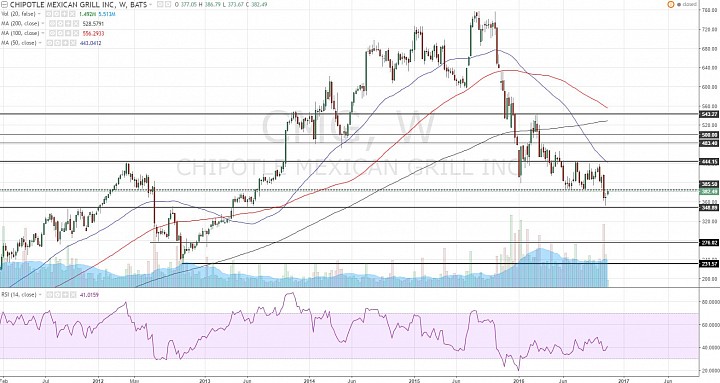 (click to enlarge)

350 is a key pivot:
- As CMG retreats to levels not seen since 2013, it found support around 350.
-  This area 345-350 is indeed a key support/resistance pivot going back to 2011. 


Can CMG finally find support here at 350? Even if it does, we should consider the prevailing bearish momentum and expect a lot selling on these bounces.