One again the BOJ does nothing over the weekend.  
That's put many, many traders on the wrong side of the strong Dollar/weak Yen bet and it's also pushed the Nikkei back to our long line at 16,000, which is where we expect support from the BOJ – whether overt or covert.  As I said in a Bloomberg interview last week:
I think 105 is a line that will be defended by the BOJ in whatever way they can, for as long as they can and the 16,000 line is also being defended at the moment so it's great fun to play in the Futures but as soon as we get to around 18,000 or 116 on the Yen, we flip to shorting the Nikkei and long on the Yen (short USD/JPY) because both those levels are unrealistic, no matter how hard the BOJ tries to push us over those lines. 

The BOJ's problem is they can't fight the constant flow of money coming into Japan from Asian investors looking for safe-havens to park their cash.  What are the alternatives?  As bad as Japan is, it's less scary than their home countries so investors tend to buy Euros (Francs, etc.), Dollars and Yen but, as a reserve currency, the Yen is just 2.5% of the Global Float (Dollar 63%, Euro 24%) yes, when people are allocating cash – they tend to put a disproportionately high percentage into Yen (vis a vis allocating by reserve status) and that is what causes the Yen to be too strong, no matter how much the BOJ tries to weaken it.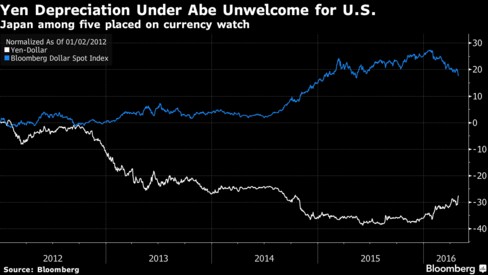 Now Japan has been placed on on official US Government watch list for currency manipulation and that's forcing the BOJ to tread caustiously before making any additional currency moves and, as I said in another interview last week (hasn't aired yet), we're not expecting any real action from the BOJ until after the upcoming G7 meeting.
Provided courtesy of Phil's Stock World.