New Zealand's Consumer Sentiment for Q1 of 2014 came in at 121.7, reaching the index's highest since Q1 of 2005, when it was 126.7. 


(NZ Westpac Consumer Sentiment March 2005 - March 2014)
Consumers are expecting good economic conditions in the next year. Westpact Chief Economist Dominick Stephens commented:
"Clearly there is now a consensus out there that the combination of a construction boom and export prices at multi-decade highs is a sweet spot for the New Zealand economy."
The good sentiment coincides with a recent rally in the NZD/USD that has now brought the pair to a triangle that has been forming for over 3 years now.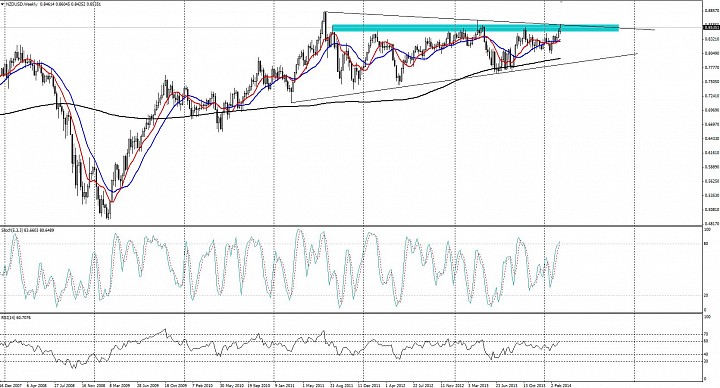 (NZD/USD weekly chart)
The weekly chart shows the pair hitting the triangle resistance, as well as a resistance area around 0.86 going back to Aug. 2011. 
Remember last week, the RBNZ hiked the key interest rate, OCR from 2.50% to 2.75%. This are very bullish for NZD/USD, so at least wait for one bearish week from the Kiwi before respecting the noted resistance factors. I believe more respect should be given the bullish momentum, especially since it came on the back of a rate hike expectation that materialized.