AUD/CAD has been bullish throughout June and into July until it hit 0.9970. It has since retreated to 0.9750 during the 7/19 session.

AUD/CAD 4H Chart 7/20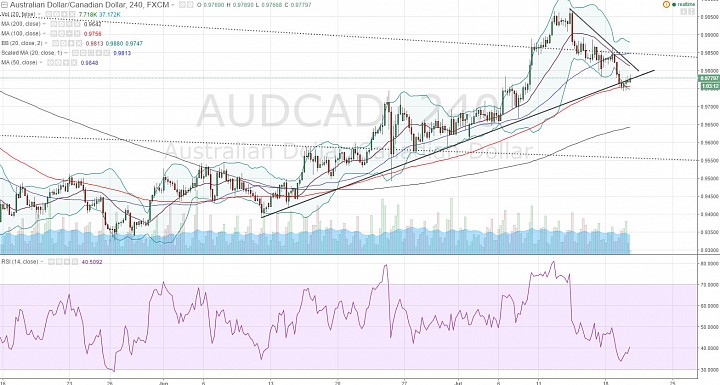 (click to enlarge)

Rising support:
The 4H chart shows the AUD/CAD trading at a rising trendline support. 
Price is also testing the 100-period simple moving average. 
So far, we have seen some buying during the 7/19 session, which provided support at 0.9750. 

AUD/CAD 1H Chart 7/20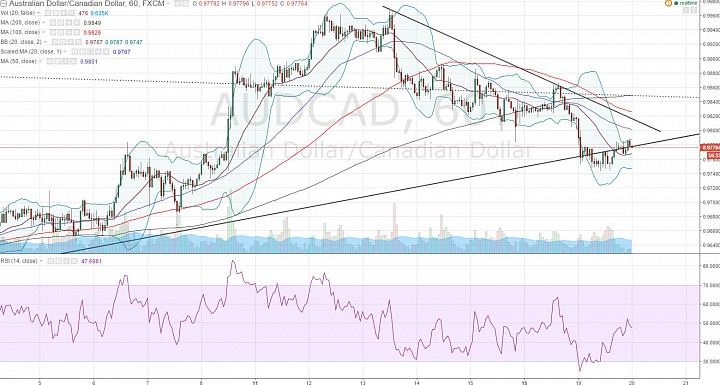 (click to enlarge)
Mini-price bottom attempt:
When we look at the 1H chart, we can see that AUD/CAD is still bearish in the short-term. 
We do see a price bottom completed during the 7/19 session.
The structure of price action as we start the 7/20 suggests a possible bullish attempt at least in the near-term (intra-session). 

There could be some bullish outlook in the near-term:
With the prevailing trend being bearish in the short-term (since July 13), but bullish in the medium-term (since early June), the bullish outlook has the potential to reverse the short-term downtrend, to continue the medium-term uptrend.
In the scenario of a near-term bullish outlook, we should limit the bullish outlook to 0.9840.
We should respect this week's high just below 0.9870 for now. 
A break above 0.9870 opens up the highs around 0.9960. For the medium-term, I would limit the bullish outlook to 0.9960, with the most aggressive outlook being 1.00 psychological handle, where we should expect some selling.|

I just opened 2 positions at 0.9775. Stop is at 0.9765 with a target of 0.9820. This is a very short-term trade with decent reward to risk. However, there is strong risk of being "whipsawed". I will take the risk though. I will also revisit the bullish outlook if price hits my stops and falls towards 0.9755. If oil prices continue to be pressured, we could respect the 0.9745 low with a near-term bullish outlook to 0.9820 and a possible bullish outlook back to the highs this week around 0.9865.