Over the weekend, the biggest story in the cryptocurrency space was the extreme "flippening" or rise of bitcoin cash. You can just google or youtube the drama. I won't get into the details, but at the end of the day, many in the bitcoin community saw this as an attempt to replace bitcoin.
Basically there is a debate of weather Bitcoin Cash can replace Bitcoin. The majority in the community still believe bitcoin will be the standard. Here is a good explanation of this development:
BCCUSD 4H Chart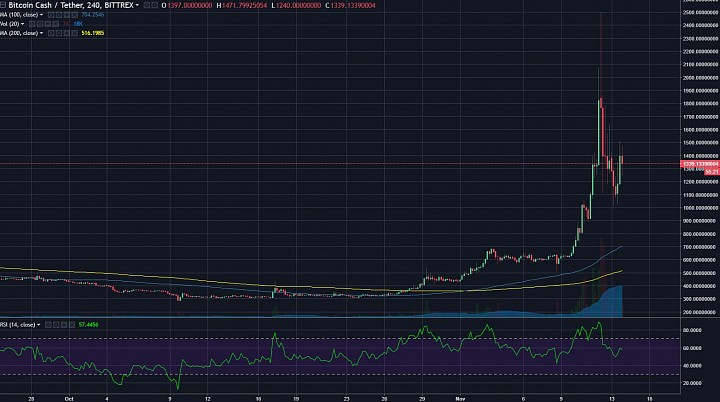 (click to enlarge)
4X:
- Price of one unit of Bitcoin Cash ($BCCUSD or $BCHUSD in some exchanges) essentially went from around $600 to almost $2500|
- Essentially market value quadrupled within a couple of days.
- This pump was mainly accelerated during the 11/11-11/12 Asian session, by the South Koreans.
- Price has since cooled off, basically half the value from the top.
- Still, Bitcoin Cash is now in competition for 2nd place with Ethereium.
Bitcoin Still Dominant after Taking a Hit:
- The legacy Bitcoin however continues to dominate in market cap, even though it has recently taken a hit.
- When we look at the daily chart of $BTCUSD, we can see that this sell-off is nothing new.
- In fact, I wrote last week that if price falls below the 6000-6200 area, bitcoin might go down to 5000.
- So far it has found support at 5600.
- I think in the short-term the market might sell around 7000, as BTCUSD consolidates.
- I think 5600 was a great place for entry, but I would also keep some dry powder in case price falls to 5000.
BTCUSD Daily Chart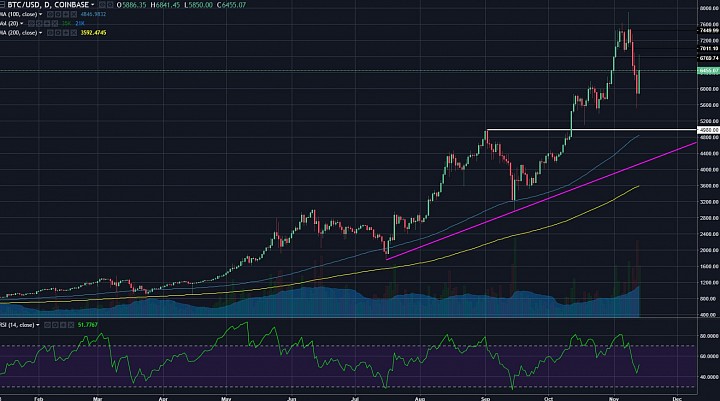 (click to enlarge)