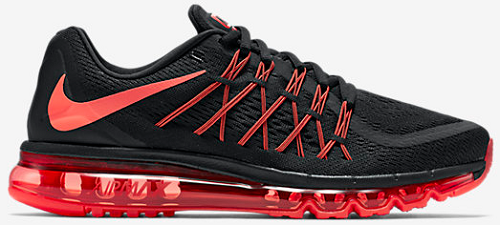 Love the designs or hate them, there's no denying that the momentum is there. Nike (NKE) closed another great week, ending Friday up $1.68 at $130.47/share, settling on another all-time high for the company. Nike has been a noticeable show of strength in a retail sector that has taken it's bumps. We saw Walmart (WMT) tumble more than 10% in a day earlier this week, for example. The big box retailer, as well as Target (TGT) both sell shoes under their own house brands that were obviously modeled with Nike products in mind. What's notable about the Nike brand is that even though we associate their products with sporting good stores in shopping malls, the company has great sales all year, so there's no reason to attribute the recent relative strength to the Santa Clause effect. 
Nike has been on a tear for several years now, with revenues exceeding year over year growth above 10%, and net income rising even faster than that. Pictured above is the company's flagship product, the Nike Air Max 2015. This colorway just hit the official website, and the 2016 versions are also likely to start rolling into stores soon. Pairs of these shoes typically retail for $190, and there are deluxe versions that can approach $240. Clearance sales are rare, which means that fans are quick to grab the colorways they love. The company's megapopular Jordan lines are also not losing any traction, and are a favorite with resellers, often fetching prices several times higher than retail only shortly after release due to the restricted quantity that hit the market.
Impressively, the company's closest competition, Under Armour (UA) has also been having fantastic growth, with some led to infer that Nike could make a move to buy the company at some point, but at nearly triple the price/earnings ratio, that's a little too rich for a smart business like Nike to jump on. Even Nike at just above 30 times trailing earnings is likely to turn off serious value investors. This brand has the traits of durable competitive advantages however, and will earn you money reliably. It is a safer purchase at the lower multiple, even if Under Armour has momentum.
Buy this stock for the kids and let the dividends work their magic. The current yield at less than 1% might seem stodgy, but the company increased it by 30% last year. If you are assembling a portfolio based on holding the world's strongest brands, this should absolutely be in there. Even a booming counterfeit market through sites like Alibaba (BABA) with Aliexpress.com (Don't do it, you'll be sorry!) has not kept fans from paying premium prices for legit Nike sneakers. They want the real goods, and Nike and their shareholders will continue to benefit for many years to come.
Under Armour closed up 59 cents at $100.08, Walmart down 44 cents at $58.89. Target closed down 8 cents at $75.05. Alibaba stock is a terrible waste of your money, but since I mentioned them above, they closed up 21 cents at $71.99.