By Jonathan Kalin 
Analysts reiterate bullish ratings on tech giants Apple Inc. (NASDAQ:AAPL) and Alphabet Inc(NASDAQ:GOOGL) as Apple's suppliers in Taiwan are expected to increase sales and rebound from a tough 1Q:16, while Alphabet is increasing its focus in the cloud business and has a chance to capture market share given its strong data center network.
Apple Inc.
Following China/Taiwan Tech Tour, Drexel Hamilton analyst Brian J White believes that Apple's manufacturers in Taiwan will improve sales in March, reflecting well on demand for Apple products. White is bullish on Apple, reiterating a Buy rating with a target price of $200.
Apple suppliers in Taiwan reported March sales and performance that was stronger than the eleven-year average. March sales increased by 42% MoM, which is better than the average increase of 30% over the past eleven years. Additionally, Apple supplier Hon Hai reported a 21% increase MoM sales in march, slightly below the nearly 22% average increase. Pegatron, an apple manufacturer, increased sales by 36% MoM which represents stronger growth than the average 20% over the past five years and 25% reported last March.
White believes that investors have much to look forward to from Apple in 2016 including the new iPhone cycle (iPhone 7), improvements to the Apple Watch and the potential for an enhanced capital return program for shareholders. After visiting Apple's flagship store in Shenzhen, White confirmed strong demand for the iPhone SE, which is out of stock. According to White, "Each morning, new shipments arrive but they are quickly sold within the first hour with gold as the most popular color. Apple's flagship HK store is sold out of the 64GB iPhone SE."
According to TipRanks which measures analysts' and bloggers' success rate based on how their calls perform, analyst Brian J White has a yearly average return of 7.7% and a 53% success rate. White has a 21%average return when recommending AAPL, is ranked #170 out of 3863 analysts.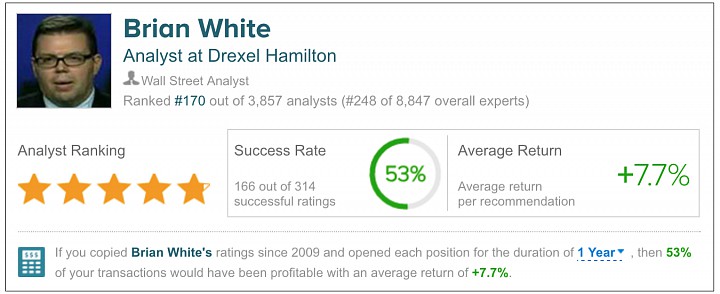 Alphabet Inc
Following the hiring of Diane Greene to lead the cloud platform, Alphabet has increased its focus on the cloud business. Merrill Lynch analyst Justin Post is Bullish on Alphabet and reiterated a Buy rating with a target price of $945.
With Alphabet's strong data center, ~30+ billion in capex spending in the past 5 years, Post thinks Google can make "inroads" in the cloud industry which could boost the stock, given the cloud's $280 billion TAM (total addressable market). Post believes product breadth, platform flexibility, and customer service are key areas that need to be improved in order to capture a larger cloud market share.
Post views Alphabet's key strengths in the cloud as its data center infrastructure, the App Engine software development platform, data analytics capabilities, and machine learning capabilities. Following the strengths, key drivers for the cloud business to succeed include "1) selling Google infrastructure as a competitive advantage; 2) increasing Platform capabilities and service offerings; 3) offering competitive pricing; 4) leverage traction of Google for Work; and 5) improve customer and system integrator outreach." Post expects Google to initiate cloud capex investment in 2016.
Post estimates that Google's current cloud products and services target a TAM of $120 billion+ by 2020, while the total TAM is estimated to be $280 billion. Post projects Google Cloud revenues will increase from $1 billion in 2015 to reach $7 billion by 2020. Further, Post believes that Google's share will increase from 2% in 2015 to 7% in 2020 in the IaaS/PaaS market, while AWS (Amazon Web Services) will remain the industry leader.
According to TipRanks which measures analysts' and bloggers' success rate based on how their calls perform, analyst Justin Post has a yearly average return of 20.6% and a 70% success rate. Post is ranked #25 out of 3863 analysts.