I just want to share a few observations about the EUR/JPY that convinced me its still bullish, and that it may be time to buy again.
1) EUR/JPY has been bullish since July 2012. 
2) EUr/JPY has been bearish so far in 2014.
3) While the weekly candles remain above the 20week SMA (blue), the bullish trend remains strong. The 20wk SMA is acting as support so far in February.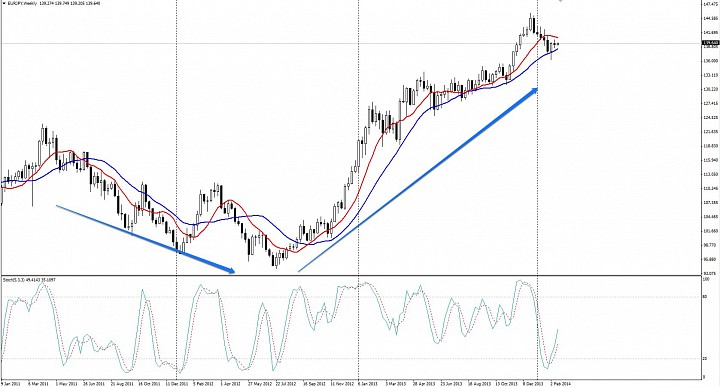 (click to enlarge. EUR/JPY Weekly)
4) The daily chart shows the 2014 decline so far, but also shows a nice bounce off of 136.22 to start February.
5) There are bullish crossovers within the stochastic indicator and between the 20 and 10-day SMAs. However, the falling trendline is not officially broken. A break above 140.30 could be an additional bullish signal as it would break the trendline and a short-term consolidation range.
6) If upon a dip, EUR/JPY is unable to hold above 138.65, then the bullish outlook might have some trouble, and the market should remains sideways to bearish in the short-term instead of bullish.
What are your thoughts on the EUR/JPY? Are you trying to ride the bullish trend seen in the weekly chart? Does the February bounce convince you to consider bullish continuation?