The USD is showing resilience this week after being battered for weeks. I noted the USD/JPY approaching a key support area in the previous post. Let's take a look at USD/JPY, EUR/USD, AUD/USD, and USD/CAD

USD/JPY Daily Chart 5/4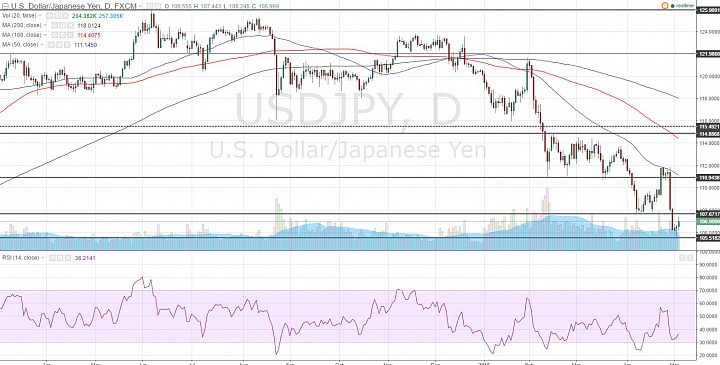 (click to enlarge)
In the previous USD/JPY post, I noted that the pair was approaching a key support area in 105-105.50.

A couple of session later, price has indeed bounced off the 105-105.50 support and is testing 107.I think in the short-term there is upside to the 107.65-108.00 area, which is a previous support area.

Because of the prevailing downtrend, I am waiting to buy on a dip back to 106.

EUR/USD Daily Chart 5/4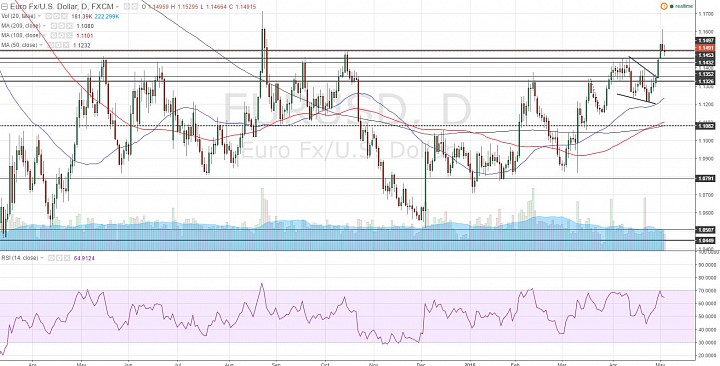 (click to enlarge)
Last week, I noted the bullish continuation scenario in EUR/USD in which it would come up to challenge the resistance around 1.15. Well it did that and even tagged 1.16 before finding sellers this week. Just like in the USD/JPY, I am waiting for another bout of bearish-USD move before betting on USD-strength. In this case, I would wait for price to get back to 1.16. It's all about reward to risk ratio when going against a prevailing trend. For USD/JPY and EUR/USD, the only reason we are going against the prevailing trends is because price is near key pivots, so I want to enter closer to these key pivots. 

AUD/USD Daily Chart 5/4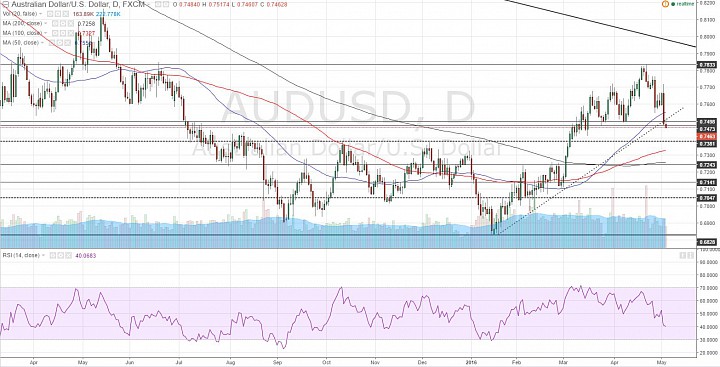 (click to enlarge)
I had to mentally do a 180 on the AUD after a recent inflation data. Now for AUD/USD, I was anticipating a push towards 0.80, but was looking to short it because I believe USD-strength will come back. After all, the FOMC is still ahead of other major central banks in terms of a rate hike campaign. With the inflation report, the RBA has a rate cut on the table for consideration. 

This week, with USD fighting back, it seems like the AUD is especially vulnerable. We will see that it is also a comm-doll story. But the bottomline is that AUD/USD looks like it is going to fall back to the 0.7240-0.7250 pivot area. If there is a pullback, the 0.76 and 0.77 handles can be expected to provide resistance. A break above 0.7720 will be needed to neutralize the bearish outlook and even revive the bullish outlook towards 0.80. 

USD/CAD Daily Chart 5/4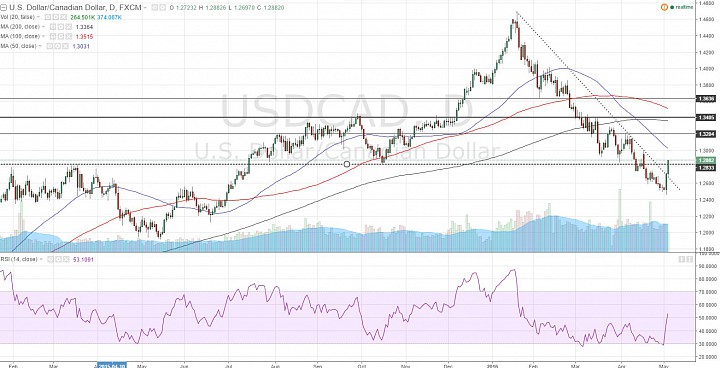 (click to enlarge)
With a rebound in oil prices in 2016, the loonie (CAD) also strengthened. We can see USD/CAD's persistent downtrend from above 1.46 to below 1.25. I have been watching at a distance, but it seems like its time to tune in. 

The bullish rebound from around 1.25 is strong and has broken above a falling trendline. It looks like 1.30 is inevitable, but I would refrain from jumping on now with the risk of choppiness and a revisit of 1.25. 

The rebound looks strong and has the potential of extending above 1.30, with 1.32 and 1.34 as the next key pivots. I would limit the upside expectation to 1.34 for now.