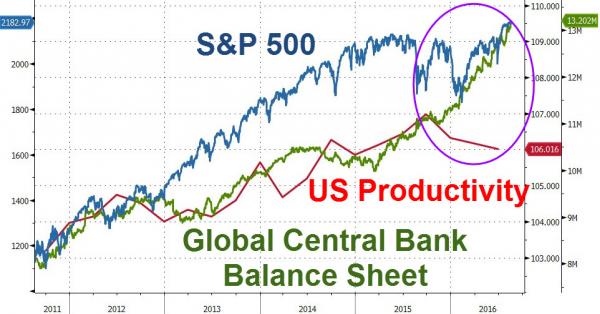 What insanity! 
The chart on the right says it all – this is what $10Tn of stimulus in the past 7 years has bought our Central Banksters – a stock market that says things have never been better to a population who's impression of their own financial health has rarely been worse.
Hopefully the drop in productivity is merely a correction off the fantastic run we've had for the past 5 years, with a 50% increase since 2011 now paired back to a 33% increase but still very good.  Unfortunately, wages have not kept up at all and that's been hurting Consumer Sentiment and making it very hard for the economy to gain any real traction – no matter how much money the Central Banksters thow at their friends.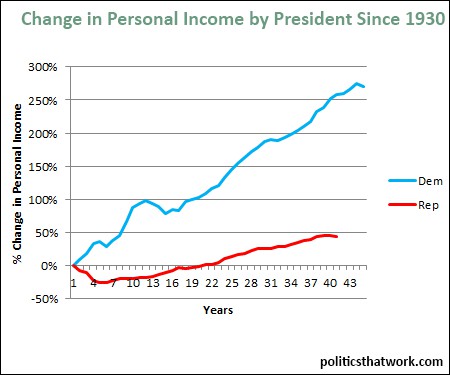 Of course, if you are a business owner, you are loving this and there is, of course, no better way to make sure your workers keep their grubby little hands off your proifts than to vote Republican as the GOP has been more than 5 TIMES better at keeping a lid on wages than the Democrats and, if you take out the well-deserved 900% increase in CEO and management wages over the same period – you'll find that the Republican party has TAKEN money from the workers and distributed to those of us who created those jobs, on our own, without any help from anyone, ever…
This has, unfortunately, left us with a lot of whiny poor people but .  Those of us in the Top 10% only collect 48.2% of the income each year and that means there is room for us to get 51.8% more of the money in this country so don't be complacent – get out there and SQUEEZE the bottom 90% until more money comes out!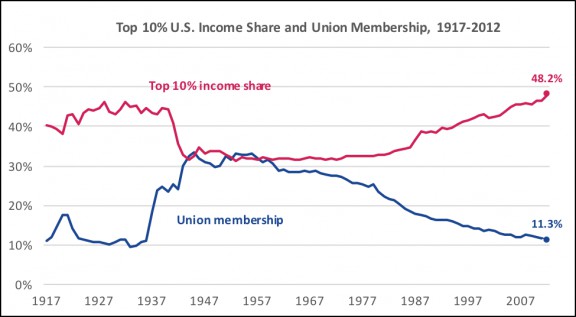 Of course, the best way to get the bottom 90% to give up more of their wages is to force them to give them up.  We can do that by raising the price of…
Provided courtesy of Phil's Stock World.