Gap Inc. GPS just released its third quarter fiscal 2017 financial results, posting earnings of 58 cents per share and revenues of $3.84 billion. Currently, GPS is a #4 (Sell) on the Zacks Rank, and is up almost 7% to $29.34 per share in trading shortly after its earnings report was released.
Gap:
Beat earnings estimates. The apparel retailer reported adjusted earnings of 58 cents per share, beating the Zacks Consensus Estimate of 55 cents per share. Net income was $229 million for the quarter.
Beat revenue estimates. The company saw revenue figures of $3.84 billion, beating our consensus estimate of $3.77 billion.
Gap reported total comparable store sales of 3%, marking the fourth consecutive quarter of positive comparable sales growth. By brand, Old Navy reported comps of 4%, Gap Global saw comps of 1%, but Banana Republic saw negative 1% in this area (compared to negative 6% last year).
Looking ahead, Gap increased its reported adjusted EPS guidance for fiscal year 2017 to the range of $2.08 to $2.12 per share versus previous guidance of $2.02 to $2.10. The company also expects comps for the year to be up low-single-digits.
"Today, we are happy to report our fourth consecutive quarter of positive comps, reflecting the continued momentum in key parts of our business," said Art Peck, president and chief executive officer, Gap Inc. "We continue to make progress against the balanced growth strategy we outlined in September, driving efficiency at our more mature brands, while growing our footprint in the value and active space, and investing in our online and mobile experience."
Here's a graph that looks at Gap's price, consensus, and EPS surprise:
Gap, Inc. (The) Price, Consensus and EPS Surprise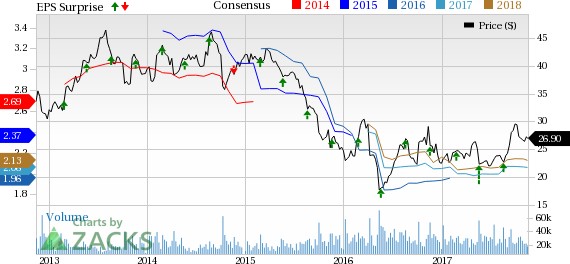 Gap, Inc. (The) Price, Consensus and EPS Surprise | Gap, Inc. (The) Quote
The Gap, Inc. is a global specialty retailer which operates stores selling casual apparel, personal care and other accessories for men, women and children under the Gap, Banana Republic and Old Navy brands. The company designs virtually all of its products, which in turn are manufactured by independent sources, and sells them under its brand names.
Zacks' Best Private Investment Ideas
While we are happy to share many articles like this on the website, our best recommendations and most in-depth research are not available to the public.
Starting today, and for the next month, you can follow all Zacks' private buys and sells in real time. Our experts cover all kinds of trades: value, momentum, ETFs, stocks under $10, stocks that corporate insiders are buying up, and companies that are about to report positive earnings surprises. You can even look inside portfolios so exclusive that they are normally closed to new investors. Click here for Zacks' private trades >>
Want the latest recommendations from Zacks Investment Research? Today, you can download 7 Best Stocks for the Next 30 Days.
Click to get this free report
Gap, Inc. (The) (GPS): Free Stock Analysis Report
To read this article on Zacks.com click here.
Zacks Investment Research