I am often asked, what is your favorite or best trading setup? Price pattern trading has multiple parts that come together to provide that "best setup." That is what makes it the best. There are many setup patterns that are high odds and many of them include most of the parts of the one I will share. This setup is one of the best, but ones used are all good. I'd take this setup every time.
What makes a great trade setup?
  The setup has multiple times frames aligned
  The setup is with the trend or has had a climactic extension
  The setup entry for longs is at price support and resistance for shorts
  The move has already started, except for the climactic extension type
  The setup clearly has room to continue into a "Void"
  The setup has had a higher than average volume increase
  The setup has had some type of failure pattern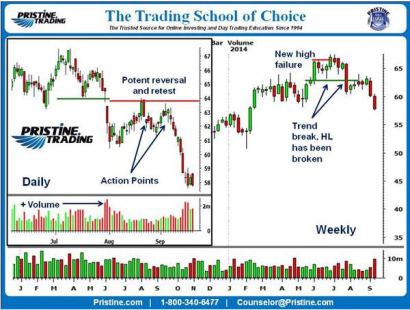 The above chart had everything mentioned above coming together. While we are viewing this together with weekly and daily time frames for a swing trader, an intra-day day trader could use a 60-minute and 5-minute time frame combination. The trading concepts mentioned for the setup are universal. You simply need to choose what time frames you want to apply them to. Let's review.
The higher weekly time frame was in an uptrend of higher highs (HH) and higher lows (HL). When prices moved to a new high within that uptrend, it failed to continue and prices broke below the prior HL violating the uptrend. At that point, the simple concept of support becomes resistance applies. When prices retest that area you should be thinking, here comes my short setup. Now move to the lower time frame for that to form. The above being said, should prices cut through that resistance and they move back to the old highs, the anticipated setup has been negated and it's time to move on to another setup.
We could have stayed with the weekly time frame; however, moving to a lower time frame provides more detail of the price action. On the daily time frame we can see the sharp drop on well above average volume (+ volume). Prices typically retrace after that and that is what we are hoping for. Prices to move back to the resistance or supply area where the sellers are. That is where those that were long were shocked by the big drop lower and want to get out those longs.
Notice the potent reversal as prices reach the supply area. This alone provides a setup for entering short and that can be done, but know that at times this high can be overcome and then the drop follows. Point is not to place a stop-loss exactly above that high; rather, give a bit more room for a wiggle. In the example shown, there was a lower high retest and this is as close to sure money (there is no sure money in trading) as there is with everything else mentioned aligned too.
You see both action points for entries for this setup. From either, you are in the trade must manage it according to your trading plan.  In addition, while I have shown this as a swing trade, the day trader could use the setup as a bias for their trades in the time frame of their choosing.  There were quite a few days moving lower that the day trader could have nailed this on the intra-day retracements.
This is an insight into what the Pristine Traded Trader (PTT) learns as part of their Stock Market Education. There isn't one perfect trading setup that always works every time. There is no such thing. However, when the multiple trading concepts are aligned as explained, the odds are overwhelmingly on your side.
This Tuesday at 4:15 I will be with students that have already taken the Advanced Technical Strategies (ATS) class to go over setups just like this and more. In these coaching sessions that are free to students, we reinforce what is learned in class to make the trading concepts and strategies second nature over time.
If you want to learn more about become a PTT send an email to counselor@pristine.com. Of course, come to our After Market Lessons also.
All the best,
Greg Capra
President & CEO
Pristine Capital Holdings, Inc.