Brick-and-mortar retail, particularly in the apparel sector, has stood out in the credit world especially for its higher-than-average risk of default. According to recently published research by Moody's, for apparel retailers trading at high-yield credit ratings, one-year expected default frequency at the 75th percentile comes in at a projected 7.83%. This same measure comes to merely 2.05% for traditional retailers.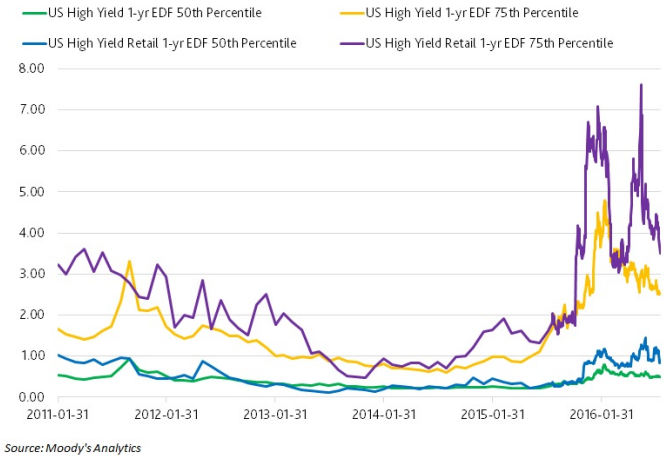 At the 75th percentile, U.S. high-yield broader retail has a 100-bp expected default frequency gap over high yield among all sectors.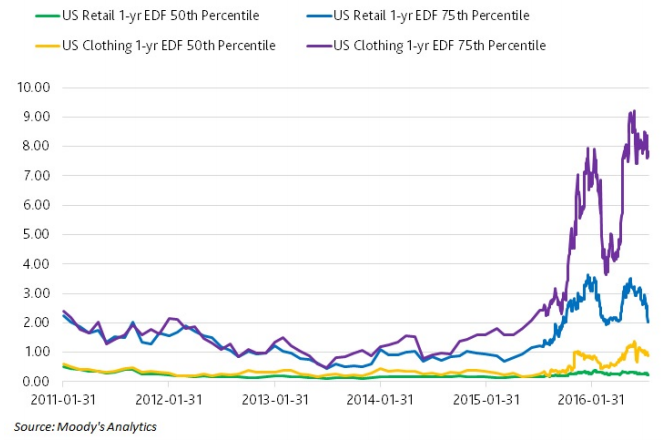 The apparel industry had a number of high-profile defaults in 2015 and into early 2016, including Aeropostale, American Apparel, Quiksilver, and Sports Authority. Gap Inc. had its credit status cut to "junk"/high-yield status in May. Even outside of the increasing shift toward online, changes in fashion tastes and the emergence of other retail competition have worked to alter price sensitivities among consumers. Moody's projects that half of the 32 U.S. clothing retailers have expected default frequencies that translate to implied debt ratings of B3 or lower on the rating agency's in-house scale, a speculative grade rating and one step above Caa1.
Historically, companies with B3 ratings have one-year default rates of 11.6% and ten-year default rates of 34.9%. The expected loss over these timeframes is 6.4% and 19.2%, respectively.
From late-2014 onward, the spread between U.S. high-yield retail sector bonds (540 bps from Treasuries) and general consumer cyclical sector bonds (423 bps) has begun to widen, suggesting that some level of upheaval in retail is likely to occur in time.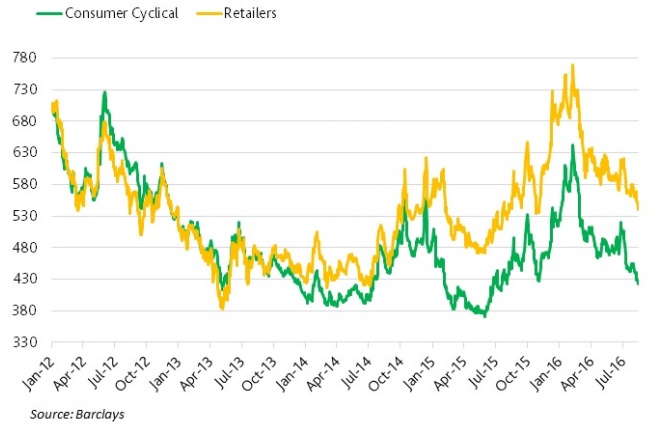 From 2008-2010, consumer cyclical actually held a higher average spread relative to retail (111 bps), a 228-bp swing overall from today's totals. Even while consumer spending seems to be strong, the market is highly equivocal about its future prospects. In a broader economic downturn, many smaller to mid-sized retail shops are likely to go under and realign the industry.
Looking ahead, I would prefer to stay out of brick-and-mortar retail chains as that model faces a crossroads in the future.