Acadia Pharmaceuticals(ACAD - Get Report) disclosed pricing of its Nuplazid drug on Friday, and it was good news for shareholders.
During Friday's earnings conference call, Acadia's management team said that a 30-day supply of Nuplazid would be priced at $1,950. That comes to about $24,000 a year and is significantly higher than what investors were expecting. Executives said that they determined this to be an appropriate price for the drug after extensive research and because Nuplazid works in a unique way.

(Full article on thestreet.com)
Our Whotrades blogger Chris Lau also believes costs will put pressure and a possible lid on ACAD's upside. 
Why Acadia Pharmaceutical is on Fire, and Why it Won't Last
While the risk is noted, the technical picture seems to be pointing north. Let's take a look at the chart.

ACAD Daily Chart 5/11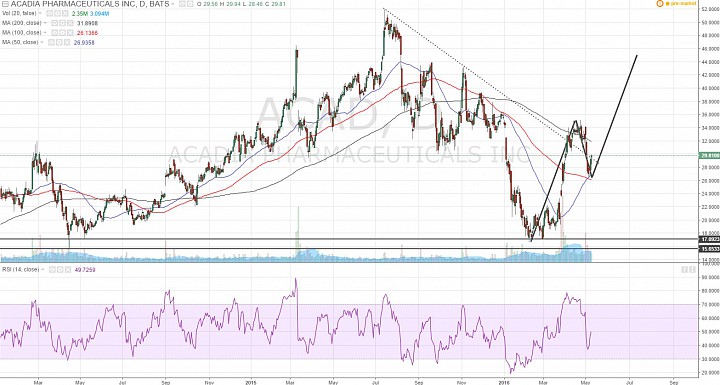 (click to enlarge)
First of all, ACAD has been in a bearish correction since it almost tagged 52. It fell to 17 in under a year but was supported at the 2014-lows.

However, 2016 has been strong for ACAD, which rebounded from the lows around 17 up to 35 before retreating. 

Now, the pullback from 35 came to about 26.50, and the fact that price rebounded from here is a good indication for the upside. 1) This is a slingshot signal - when price crosses above key moving averages and then bounces off of them as support. 2) The RSI shows initiation of bullish momentum when it pushed above 70. Then the fact that it held above 40 for the most part shows maintenance of that bullish momentum. 

An ABC projection would target something like 45. I would also mind the common resistance in the 43-44 area as well as the previous resistance at 35. 

Now, if price fails to push above 32, we should be careful as that might indicate a lack of commitment from the bulls camp. Also, a break below 26 might revive the prevailing bearish trend and put pressure on the 2016-lows, starting with the 22 pivot, the 20-handle, and then the 17 low.