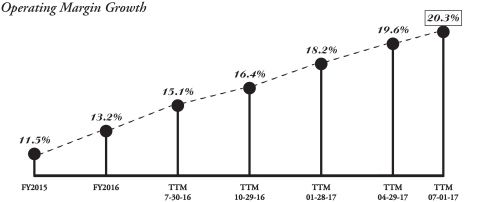 FORT LAUDERDALE, Fla.--(BUSINESS WIRE)--
National Beverage Corp. (FIZZ) today announced exemplary final results for its fiscal year ended April 29, 2017:
This Smart News Release features multimedia. View the full release here: http://www.businesswire.com/news/home/20170713005605/en/
May + June = Two Record Months for FY2018
Operating Margins climb to 20.3% TTM July 1, 2017
$11.66 in Dividends declared 2004-2017
Shasta Sparkling Water SDA (soft drink alternative) - major distribution advances
"The release of our year-end financial statements certified that FY 2017 was the best year in the history of National Beverage – absolutely!" stated Chairman and Chief Executive Officer, Nick A. Caporella. "Beating the estimates of both our fans and cash-poor detractors, and even our own 'look-see' estimate, Team National posted industry-leading revenue and earnings growth. Our long-term shareholders also enjoyed another banner year; 90% price appreciation + $1.50 per share dividend paid + another $1.50 per share dividend payment on the way.
There is no doubt our exceptional financial results are the result of Team National's creativity combined with executing the right strategy. This is evident in the unrivaled success of LaCroix . . . from its award-winning packaging, to its unmatched flavor essences, to its unique digital marketing program. This creativity is now also focused on Shasta Sparkling Water, our SDA (soft drink alternative) which features the industry's first 'clean label'. With the taste profile of a traditional soft drink in a '100% all-natural' beverage, the Shasta Sparkling Water line is targeted to those 'crossover consumers' within the $81 billion US carbonated soft drink segment seeking guilt-free...
More