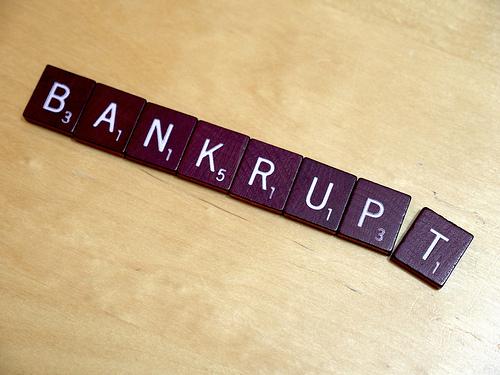 Bankruptcy is a major risk that can sometimes blindside investors. For example, investors who were hoping to buy distressed coal stocks on the cheap back in 2012 were in for a rude awakening when several companies went belly-up with little to no warning. The problem is, there's rarely a clear-cut warning signal ahead of a bankruptcy filing, and many companies actually try to reassure their shareholder base that a turnaround is forthcoming right up until the bitter end.
Armed with this insight, our Foolish contributors offer five signs that shareholders should be on the lookout for when investing in companies with weak balance sheets or that are operating in industries with a poor outlook in the near term.
Tyler Crowe: This is more of an issue for companies in commodities and other cyclical businesses, but one thing that can signal that a rough patch is coming is when the company has to renegotiate its debt covenants. Aside from the typical things like interest payments and maturity dates, certain types of debt come with covenants. These typically require a company to maintain certain metrics, like staying below a set ratio of total debt outstanding to EBITDA, for example.
In the commodity world, profitability levels can evaporate very quickly and put companies at risk of breaking the covenants of their debt. When this happens, there are a whole lot of possible outcomes, such as severe restrictions on how much money can use in capital spending, or even worse, forced asset sales or other liquidation events. These sorts of things may help the bankers get their money back, but they can also be huge blows to the long-term viability of the company.
In the oil world recently, bankers and creditors have been pretty lenient with renegotiating debt that's in breach of its covenants. That doesn't mean, though, that this is the reception all companies in breach of debt covenants can expect. It may not be the sure-fire signal that a company is in its death throes, but it's enough of a warning that an investor should really take a deep look at the company.
Steve Symington: It's not always clear when companies are about to declare bankruptcy, but some of the surest signs of impending trouble are painfully unfavorable terms from lenders.
Take RadioShack, for example, which filed for bankruptcy just over a year ago after 94 years in business. The writing was on the wall; I even wrote a full eight months earlier that RadioShack could be bankrupt in 2015, partly because its prior terms for obtaining $835 million in much-needed financing in late 2013 dictated it could close no more than 200 stores per year. Unfortunately, RadioShack management subsequently stated it needed to close as many as 1,100 "lower-performing" stores in an effort to stem the company's widening losses -- a number that would take more than five years to achieve per the terms of that earlier debt. Worse yet, when RadioShack went back to its lenders for permission to implement the more aggressive...
More