Overnight, Markit released its Flash estimates for Manufacturing and Services PMIs for France, Germany and the wider Euro-zone.
While Germany continues to post good readings - its manufacturing PMI rose to 54.2 for Dec from 52.7 in Nov - France continued to show very worrying signs. Its manufacturing PMI dropped to 47.1 from 48.4, and its services PMI was down to 47.4 from 48.0. Despite that, the overall Euro-zone saw improvement as countries outside Germany and France improved.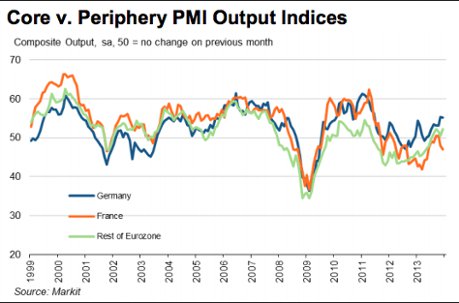 It all becomes pretty clear when we take a look at the composite PMI's (a combination of manufacturing and services) for Germany, France and the rest of the Euro-zone. This poses a problem for the ECB, as the 2nd largest economy in the Euro-area seems to be heading in the opposite direction of everyone else - and will further damage the popularity of French President Hollande.