American Airlines Group Inc.'s AAL third-quarter 2017 earnings (excluding 14 cents from non-recurring items) of $1.42 per share surpassed the Zacks Consensus Estimate by 3 cents. Quarterly earnings declined significantly on a year-over-year basis due to high costs. Results were also hurt by the recent hurricanes.
Revenues of $10,878 million were 2.7% above the year-ago figure. The Zacks Consensus Estimate for third-quarter revenues of $10,882.9 million. Strong demand for air travel coupled with improving yields drove the top line in the quarter under review.
Total revenue per available seat miles (TRASM: a key measure of unit revenue) improved 1.1% to 14.89 cents in the reported quarter. In fact, this quarter marked the fourth successive one in which the metric grew on a year-over-year basis, since the fourth quarter of 2014.
Consolidated yield improved 1.6%. Passenger revenue per available seat miles improved 0.9%. While traffic (measured by revenue passenger miles) was up 0.9%, capacity (measured by average seat miles) was up 1.6%. In fact, consolidated load factor (percentage of seats filled by passengers) decreased to 82.8% from 83.3% a year-ago as traffic growth was outpaced by capacity expansion.
Total operating expenses climbed 5.3% year over year to $9.6 billion primarily backed by rise in fuel costs. Expenses pertaining to salaries and benefits were up 8%. Consolidated operating costs per available seat miles (CASM: excluding special items) increased 4.5%.
During the third quarter, the company had to cancel more than 8,000 flights due to the hurricanes (Harvey, Irma and Maria). Consequently, its pre-tax earnings was hurt by approximately $75 million in the quarter.
In the third quarter of 2017, the company returned $411 million billion to its shareholders through the payment of $49 million in dividends and buyback of shares worth $362 million. Furthermore, the carrier also declared a dividend of 10 cents per share. The dividend will be paid on Nov 27, to the shareholders on Nov 13. Notably, the carrier has returned more than $11.1 billion to stockholders through share repurchases and dividends since mid-2014. We are impressed by the company's efforts to reward shareholders through stock repurchases and dividend payments.
Meanwhile, it remains focused on introducing new aircraft and retiring old ones from its fleet. In fact, keeping in with its aim to modernize its fleet, the carrier invested in excess of $900 million during the reported quarter in 13 new planes and three regional ones.
American Airlines Group, Inc. Price, Consensus and EPS Surprise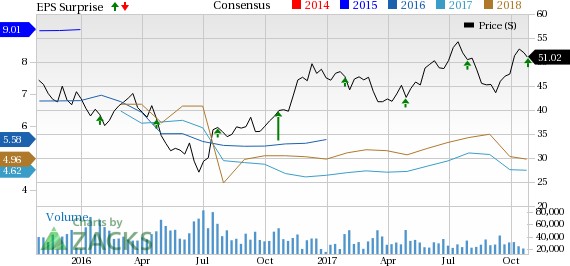 American Airlines Group, Inc. Price, Consensus and EPS Surprise | American Airlines Group, Inc. Quote
Outlook
TRASM is expected to increase in the band of 2.5% to 4.5% in the fourth quarter. Pre-tax margin excluding special items is projected in the range of 4.5% to 6.5%. Consolidated CASM (excluding special items and fuel) is expected to increase 4.5% in the final quarter of 2017. The metric is also anticipated to increase approximately 5% in 2017. Capacity (system) in 2017 is projected to increase 1%.
Upcoming Releases
Investors interested in the broader Transportation sector are keenly waiting for third-quarter earnings reports from key players like GOL Linhas GOL, Copa Holdings, S.A. CPA and Expeditors International of Washington EXPD. While GOL Linhas and Copa Holdings will report third-quarter results on Nov 8, Expeditors will report the same on Nov 7.
Looking for Stocks with Skyrocketing Upside?

Zacks has just released a Special Report on the booming investment opportunities of legal marijuana.

Ignited by new referendums and legislation, this industry is expected to blast from an already robust $6.7 billion to $20.2 billion in 2021. Early investors stand to make a killing, but you have to be ready to act and know just where to look.

See the pot trades we're targeting>>
Want the latest recommendations from Zacks Investment Research? Today, you can download 7 Best Stocks for the Next 30 Days.
Click to get this free report
Gol Linhas Aereas Inteligentes S.A. (GOL): Free Stock Analysis Report
Copa Holdings, S.A. (CPA): Free Stock Analysis Report
American Airlines Group, Inc. (AAL): Free Stock Analysis Report
Expeditors International of Washington, Inc. (EXPD): Free Stock Analysis Report
To read this article on Zacks.com click here.
Zacks Investment Research