Groupon released their earnings this morning and the stock soars 24% today. The main reason for such jump is that the company's results exceeded the analysts estimates. Total revenue is 6% higher than analysts' consensus: $756M vs $711M expected, and they also had 1c loss per share while 2c was expected. Do you really think that this is a good reason for the stock to soar? I don't and here is why. 
I always analyze the company's unit-economics to get a better understanding whether the company is making money per one active user or not. Groupon wouldn't be an exception here, let's check their ARPU and operating profit per one active user.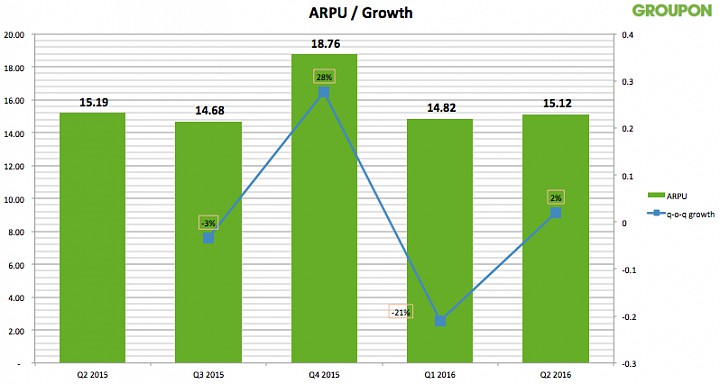 As you can see from this chart, the company has quite stable average revenue per user, however, Groupon considers US market as a core one and ARPU in the United States has a negative trend. It was about $19.33 in Q2'15, then it jumped in Q4 (Groupon's business is seasonal), but after Q4'15 it dropped to lower than it was beforehand. At the moment Groupon has $18.53 ARPU in the United States which is 4% lower than one year ago. 
Another interesting trend we can see in their billings and revenue. Billings per user metric is going down: $31.46 Q2'15 vs $29.86 Q2'16 (-5%). It means that current active users spend less on Groupon's platforms. If we check how much Groupon charges business owners (basically revenue/billings rate), we'll see that it's going up each quarter at least by 1%: 48.29% Q2'15 vs $49.73 Q1'16 vs 50.63% Q2'16. I think that it's a bad sign because the higher this rate would be, less clients Groupon will have. 
There are lots of doubts regarding coupons efficiency, because now most of companies have loyalty programs both online and offline. While others don't see any competition in this field for Groupon excepting different coupon providers, I think that they have the following group of competitors:
Loyalty marketing platforms - there are a bunch of companies providing loyalty marketing solutions: Perka which was acquired by First Data Corporation, LevelUp which recently raised a new round, PunchTab which was acquired by Walmart Labs and lots of others;
PoS solutions - this group is a real threat for Groupon's business because they have loyalty programs inside the fintech solution and it's disrupting the whole offline/online marketing field overall. Why do you need coupon's if you can store the data about your customers, offer them exclusive products or services, analyze the customers' behavior and habits and so on?
The most important financial metric for such business is operating profit per user, it shows how much money the company earns from one active user. And you can see everything on the following chart: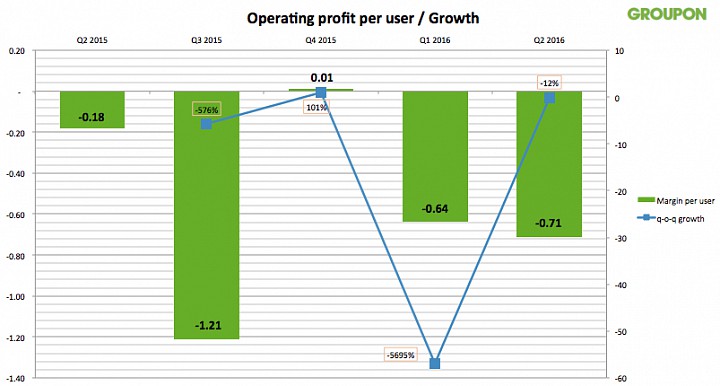 You can see how unstable the company's operating profit is. Groupon technically reached the breakeven in Q4'15 just because this is a peak season for them. You can see how much money the company the company is losing each quarter from one active user. Groupon increased its marketing expenses per user from $1.17 in Q2'15 to $1.84 in Q2'16, cost of revenue is more or less stable as well as SG&A. It means that the company spends a lot to get the paying users, however, we don't see the retention rate. 
Groupon reported 1.1M increase in a number of users this quarter - do you know how many users stay with Groupon for quite a long time or buy something? Groupon's management mentioned in their presentation that payback period is 12-18 months from acquiring 1 active user. According to my calculations of customer acquisition cost (marketing expenses / users count growth), Groupon spends around $153 to get one active user while their ARPU is around $15 on quarter basis. It means that average payback period is around 10 quarters or 30 months.
Conclusion
I'd better avoid Groupon's stock, because I don't see a significant upside potential. I see some important threats such as competition and low coupon's efficiency. Moreover, Groupon's monetization and margins are really low and I don't expect the company to reach the operating breakeven any time soon.