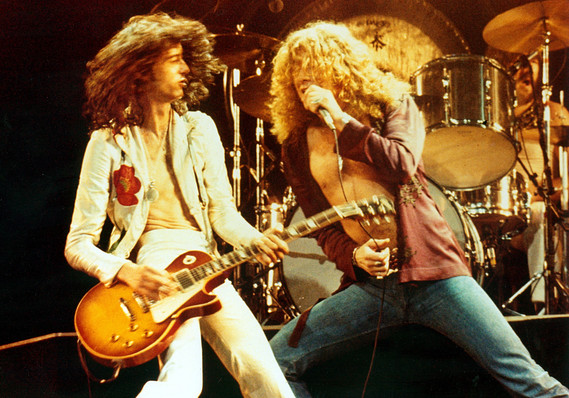 The song remains the same.
So said a great rock band. And so describes the domestic share market. The gains continue to pile up as the August-September correction recedes into the collective memory.
While a 3% to 5% reaction is reasonable to expect, the market is having none of it. The pullbacks are all of one or two days' in duration. With the Nasdaq Composite less than 2% from its July high, a logical place for a pause might be somewhere in the vicinity of this level.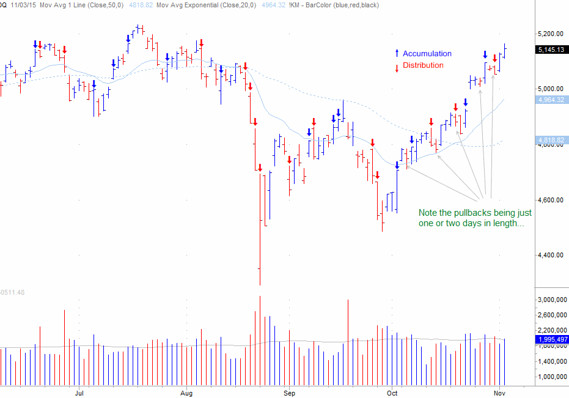 Chart created using TradeStation. ©TradeStation Technologies, 2001-2015. All rights reserved.
Among the names, on the face of it, Paypal Holdings PYPL, -2.37% does not project to be a real burner of a leader. This by virtue of its expected earnings growth of 21% this year and 19% next year, per most analysts who track the payment-services provider.
This is nice, solid growth, if it materializes, and far above that of the average domestic concern. But it is not the degree of growth that generally correlates with the most outstanding leaders of a cycle.
Notwithstanding this, as noted here from time to time, institutional participants tasked with a growth mandate are attracted to titles like PYPL like bees to honey. Good earnings growth, good relative strength (the stock has added 20% over the past five weeks vs. the S&P 500's 5%), and deep liquidity ($375 million in average daily dollar volume) comprise the formula that is hard to come by.
Thus, PYPL is finding plenty of suitors of late. The chart shows a stock aggressively forming the right side of a classic base. A couple of recent tweets mentioned PYPL, here and
https://twitter.com/mardermarket/status/660122084413079552
, the latter noting a buyable opportunity at 35.97 last Friday as price was forming an inside day.
Currently, an aggressive speculator can look for a pullback entrance should price ease back to the 37 level or below. At 37, a stop-loss of 35 would equate to 5% risk, or 2.5% de facto risk if a half-sized starter position is used. If a pullback does not materialize, tracking price as it rises up the right side of its base may yield another attractive entrance, hopefully before PYPL's appointment with 40.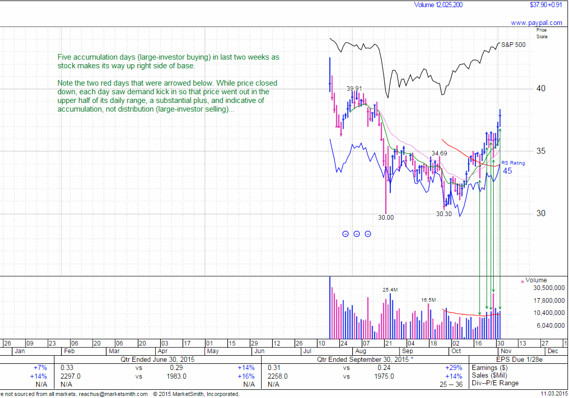 Chart created using MarketSmith. ©2015 MarketSmith Incorporated. All rights reserved.