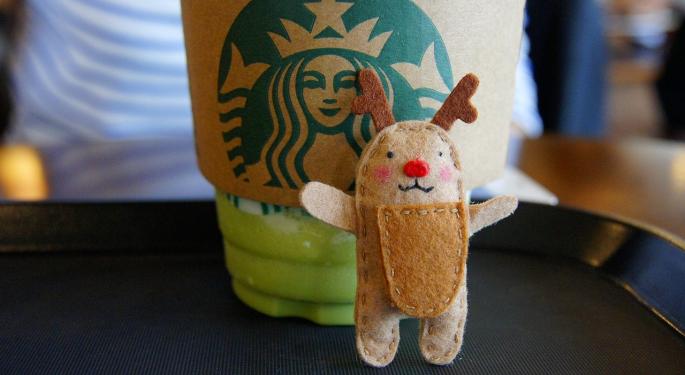 Starbucks Corporation SBUX 0.19% held its biennial Analyst Day on Wednesday, where it outlined its financial goals and focus areas, among other updates. The company reiterated its annualized targets of 10 percent revenue growth, mid-single-digit same-store sales expansion and 15–20 percent EPS growth.
Here is what sell-side analysts gleaned from attending the event.
Starbucks Will Eventually Overtake McDonald's
Nomura said it continues to believe the company will eventually overtake McDonald's Corporation MCD 0.44% as the U.S.-based restaurant company with the largest market capitalization.
Analyst Mark Kalinowski said he was pleased to see the company expanding its unit count target to 37,000 by the end of 2021, up from 25,085 at the end of 2016. This, according to the analyst, compares to the 30,000+ unit count 2019 year-end target it had two years ago. CEO Howard Schultz emphatically stated that he does not share the Street's current concerns over a slowdown in U.S. comps, the firm added.
Nomura rates shares of Starbucks a Buy, with a $70 price target.
Starbucks: A Leading Global Growth Story
Barclays believes Starbucks remains a leading global growth story, with its dominant U.S. retail coffee platform, significant international growth led by China and plans to develop its channel development business to rival the scale of the global retail platform.
That said, the firm said questions remain whether the five-year plan targeting 5 percent comps can help achieve 15–20 percent earnings growth. Analyst Jeffrey Bernstein said he would have preferred the company lowering its long-term comp guidance and then beating it, given that comps have recently come under pressure due to internal factors like rewards program changes, product launches and external factors such as the seismic shift in retail, increased competition and large base factor.
Barclays has a Neutral rating and a $57 price target on the shares of the company.
Ability To Deliver On Long-Term Targets
Wells Fargo said it came away impressed and confident in the company's ability to continue to deliver on its long-term targets. Analyst Bonnie Herzog's four takeaways are:
The strategy seems to be working despite headwinds such as shift in rewards program and election.
Since the strategy is largely maintained, leadership transition is likely to be smooth.
Long-term growth driven by premiumization of the Starbucks brand, new stores, product innovation and the digital flywheel.
Wells Fargo has an Outperform rating on the shares of Starbucks, while its 12-month valuation range is $64–$66.
Progressive Concept And Ample Growth Opportunity
BTIG analyst Ben Parente said he continues to see Starbucks as one of the most compelling and forward-thinking concepts, with ample opportunity for growth despite its size. The analyst said he is also constructive on the long-term efforts to develop the premium Roastery and Starbucks Reserve concepts, believing these can elevate the brand, increase engagement and provide an outsize profit contribution over time.
BTIG maintains its Buy rating and $64 price target for the shares of Starbucks.
At the time of writing, Starbucks was slipping 0.39 percent to $58.53, although it gained about 2.3 percent on Wednesday.
Date
Firm
Action
From
To
Oct 2016
RBC Capital
Maintains
Outperform
Sep 2016
Wedbush
Maintains
Outperform
Sep 2016
CLSA
Maintains
Buy
© 2016 Benzinga.com. Benzinga does not provide investment advice. All rights reserved.