Summary
BKE reported another weak quarter, and the stock has continued to sell off.
Comp sales are a concern, and the margins are slowly weakening.
But with an average year-end payout, the stock is yielding more than 10% at present.
Clothing and accessory retailer Buckle (NYSE:BKE) is yet another example of a former high-flyer that has fallen from grace in the eyes of investors. The stock is interesting not only for its volatility, but because of the fact that the company has an almost partnership-type model, where it pays out a significant portion of earnings and/or excess cash at the end of the year in the form of a special dividend. This is in excess of the company's normal dividend, which isn't too shabby either, so BKE is certainly an income stock in an industry where that isn't particularly common. With the stock trading so far off of its highs and, in fact, making multi-year lows, I'll take a look at BKE's valuation to see if it has some value here.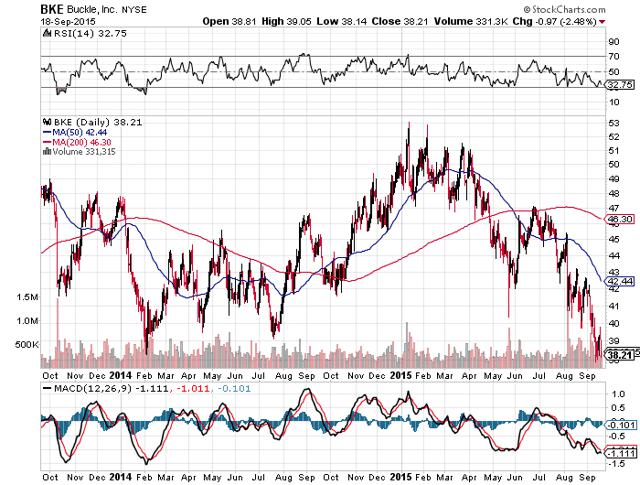 To do this, I'll use a DCF-type model you can read more about here. The model uses several inputs, including earnings estimates, which I've borrowed from Yahoo, dividends, which I've set to grow at 10% annually, and a discount rate, which I've set at the 5-year Treasury rate plus a risk premium of 7.5%.
2014

2015

2016

2017

2018

2019

2020

Earnings Forecast

Prior-year earnings per share

$3.38

$3.29

$3.38

$3.39

$3.41

$3.43

x(1+Forecasted earnings growth)

-2.70%

2.70%

0.50%

0.50%

0.50%

0.50%

=Forecasted earnings per share

$3.29

$3.38

$3.39

$3.41

$3.43

$3.45

Equity Book Value Forecasts

Equity book value at the beginning of the year

$9.07

$8.44

$7.50

$6.16

$4.35

$2.04

Earnings per share

$3.29

$3.38

$3.39

$3.41

$3.43

$3.45

-Dividends per share

$3.92

$4.31

$4.74

$5.22

$5.74

$6.31

Book value end of year

$9.07

$8.44

$7.50

$6.16

$4.35

$2.04

-$0.83

Abnormal earnings

Equity book value at the beginning of the year

$9.07

$8.44

$7.50

$6.16

$4.35

$2.04

x Equity cost of capital

9.00%

9.00%

9.00%

9.00%

9.00%

9.00%

9.00%

=Normal earnings

$0.82

$0.76

$0.68

$0.55

$0.39

$0.18

Forecasted EPS

$3.29

$3.38

$3.39

$3.41

$3.43

$3.45

-Normal earnings

$0.82

$0.76

$0.68

$0.55

$0.39

$0.18

=Abnormal earnings

$2.47

$2.62

$2.72

$2.86

$3.04

$3.26

Valuation

Future abnormal earnings

$2.47

$2.62

$2.72

$2.86

$3.04

$3.26

x discount factor(0.09002)

0.917

0.842

0.772

0.708

0.650

0.596

=Abnormal earnings disc. to present

$2.27

$2.20

$2.10

$2.02

$1.97

$1.94

Abnormal earnings in year +6

$3.26

Assumed long-term growth rate

3.00%

Value of terminal year

$54.35

Estimated share price

Sum of discounted AE over horizon

$10.57

+PV of terminal-year AE

$32.40

=PV of all AE

$42.97

+Current equity book value

$9.07

=Estimated current share price

$52.04
Here we can see the model computes a fair value of $52, significantly above the $38 shares trade for as I write this. That would imply there's a lot of upside potential here, but let's take a look at the fundamentals and see what they can tell us.
BKE's recent devaluation is due to the fact that its fundamentals are deteriorating; it isn't any more complicated than that. The company's Q2 report showed us that, and was yet another reason for investors to sell the stock. Total sales for the quarter were flat, but comp sales produced a 1.7% decline. Wall Street is never kind to a company that is producing negative comps, and that is true of BKE as well. And as an investor, negative comps should make you question your long position. This is especially true when BKE showed a similar result in the prior quarter; negative comp sales are becoming more of the norm than an outlier for the company, it seems.
If August comp sales are any indication, the pain is set to continue. The 3.3% loss in that month's comp sales is a bad omen for the Q3 report, and that is why the stock is getting hammered. When the demand picture looks as weak as it does right now for BKE, investors head for the exit in a hurry. And why not? Comp sales are the primary measure of demand for a retailer, and right now, it's very ugly for BKE.
But not all is lost. Online sales continue to grow very rapidly. While less than 10% of total sales right now, the company's online platform is growing by leaps and bounds and is the only reason total sales were flat in the face of bad comps. It will certainly be interesting to see how far online sales can climb as a percentage of total sales, but for now, they are the only source of growth for BKE. Are consumers eschewing the store but buying online? Perhaps; that would explain the roughly flat sales in the face of bad comps. Comp sales will get the headlines, but make sure you understand the composition of total sales, because revenue is revenue, even if it doesn't come from the stores. And to be clear, I'm not trying to put lipstick on the pig that is BKE's sales because they are dismal; just making the point that perhaps things aren't as bad as the comp numbers would have you believe.
Another word of caution I'd offer on BKE is regarding its margins. One thing I've always said when covering retailers (which I do a lot of) is that margins are the canary in the coal mine. When a company becomes desperate to save sales, it will often discount and promote to move product and save the top line. This, of course, doesn't work to save profits, because moving product for lower margin simply cuts operating profits in a different way than losing comp sales. In other words, it's a game management teams play to make the situation look better than it really is. BKE's margins are on the way down, but the move is very slow at this point. Q2's margin loss was 20 bps, and while I don't want to see any margin loss at all, that is a very manageable number, and it also signals to me that there are no desperation flash sales or anything of that nature occurring. The margins are telling me things aren't as bad as the comp sales numbers are indicating for the long term, so that gives me some hope.
But of course, the real reason virtually anyone owns BKE stock is the dividend, so let's take a look at that now. The company pays out its dividend on both a regular and irregular interval. BKE pays a 23 cent quarterly dividend, and it pays out the lion's share of its earnings for the year at the conclusion of the year. For the last four years, the average annual dividend payment has been just under $3, in addition to the quarterly payments. For my estimates above, I used a year-end payment of $3 plus the current 23 cent quarterly payment, and I've assessed growth in the total yearly dividend at 10%. BKE isn't quite that neat and tidy in its dividend payouts, so the actual numbers will be different, but for this analysis, that should get us close enough.
BKE's irregular annual dividend is huge, and has been for many years, but the fact that investors don't know what the payment will be until it is too late to do anything about it likely causes investors to discount it. By this I mean, if the company simply paid a $1 quarterly dividend (or something like that) the valuation would likely be a lot higher. But since most of the dividend only arrives once a year and pays out an irregular number, it is hard to forecast what that number will be.
If we look at the company's projected yield for this year ($3.92/$38.21), we get an astounding 10.3%. That is the value in BKE; the company is likely going to have a hard time growing earnings meaningfully until it can get comps back on track, but that kind of yield is hard to come by. Of course, the actual yield could be much lower than that pending the year-end dividend, but the point stands; BKE is a powerhouse income stock until proven otherwise.
I don't know what the future holds for the company's dividend, but we know the 23 cent quarterly dividend is safe and will be raised next year. The annual dividend is the wildcard, but the stock is pricing in a very low payout at this point considering BKE's history. And at 11 times forward earnings, it isn't as though the stock is expensive. I think BKE offers a very nice value here based upon the dividend, as I think investors will see a payout for this year of 8%+ at the low end and in excess of 10% at the high end.
More