Fireye as well as a number of other companies, including Priceline, Activision Blizzard, Zillow and others, is going to report the earnings after the closing bell in 1.5 hours. Fireye's stock is down almost 2% today ahead of earnings preview. Overall cyber security market is growing really fast, however this market is really tough. Besides Fireye, there are a number of companies such as Intel Security, Barracuda Networks, Blue Coat Systems, Palo Alto Networks etc. Such a competitive market makes stock market vulnerable to all the news. That's why cyber security market has a high volatility: FEYE is down more than 16% YTD, PANW is down more than 25% YTD and so on. That's why investors should catch this moment to benefit from this fluctuating market. 
Analysts are neutral to Fireye's stock: 18 hold, 8 outperform and 7 buy recommendations. Company's EPS is still way below the water line, however its revenue is going up on q-o-q basis:


Source: Financial Times
Analysts are really cautious regarding revenue forecast, the range between high and low estimates is really narrow - just 5%. I assume that in this case if Fireye reports somewhere beyond this range, the stock will whether soar or drop. That's why it's a right time to buy a straddle. I suggest buying 17 call and 17 put is an optimal option, you'll spend slightly more than $200 for both of them. In case if you want to hedge and decrease your initial outlay, I can recommend buying OTM put and call. We did the same for ATVI. In this case your initial outlay will be the following: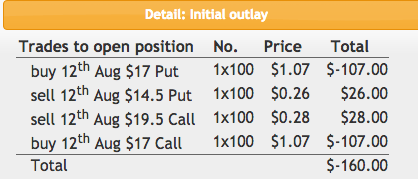 If you choose options expiring Aug 12, you are going to have the following P&L table: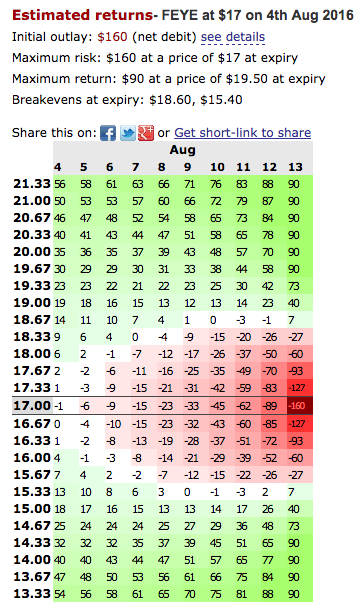 Numbers in this table show how much money you are going to earn in dollar terms. As we can see, the maximum return is 56% of the initial outlay when the stock reaches $14.33 or $19.67. It means that in case if the stock goes up or down more than 10% you start making money. It looks like a risky strategy, but as I've already mentioned, revenue range from analysts is really narrow and Fireye will most likely go beyond the boundaries. The only concern I have is there EPS, but it creates more uncertainty to all the FEYE traders.