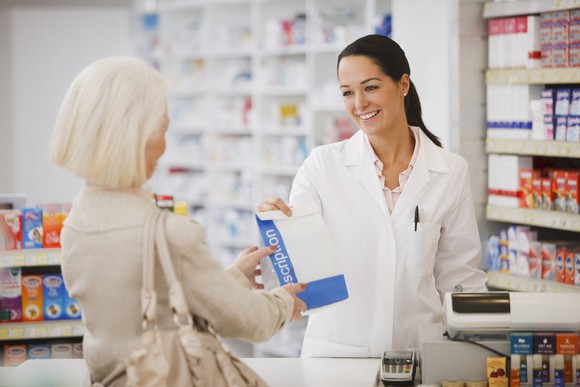 After crushing the broader markets for five consecutive years, healthcare stocks have cooled off this year, presumably due to the uncertainty created by the U.S. presidential election. Even so, many healthcare companies continue to post outstanding quarterly numbers, driven by an aging population, Obamacare, and an unprecedented innovation boom in biopharmaceuticals.
Specialty pharma stocks Endo International plc (NASDAQ:ENDP), Horizon Pharma plc (NASDAQ:HZNP), and Valeant Pharmaceuticals (NYSE:VRX) have had a particularly brutal 2016 due mainly to their relatively high debt levels and a Democrat-driven investigation into their core business model.
With each of these companies now trading at highly compressed forward price-to-earnings ratios and well below their 52-week highs, it's fair to say these beaten-down healthcare stocks are "cheap." But are they a buy? Let's dig deeper to find out.
The Street didn't take kindly to Endo's first-quarter surprise
Endo's stock has been in a tailspin ever since management slashed the company's full-year annual guidance for both total revenue (reduced by 11% from its former high-end estimate), and adjusted earnings per share (cut by 23%) during its first-quarter earnings release on May 5.
While this hefty revision reportedly stemmed from widespread price-erosion across the generic-drug market -- a business that makes up over half of Endo's revenue at present -- the performance of Endo's pain management franchise (composed of Lidoderm, Opana ER, Percocet, and Voltaren Gel) during the first quarter certainly didn't help matters. This key branded-drug franchise, for instance, saw its sales slip by 13% year over year as a result of increasing generic competition.
Given the lingering pricing concerns in the generic-drug space, Endo's falling share of the $40 billion pain management market, and the company's total debt that exceeds $8.5 billion, there are ample reasons to steer clear of this stock right now. On the flip side, the worst may be over, and the company's rock-bottom forward price-to-earnings ratio of 3.4 might be too cheap for bargain hunters to ignore.
After all, in 2017 Endo is projected to grow its bottom line by about 10% and its...
More