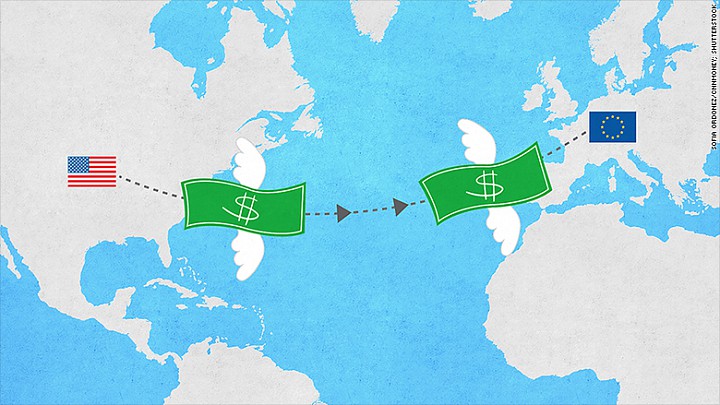 American cash $3.9 billion is pouring into European stocks. That's according to EPFR Global, a research firm that tracks fund flow data.
"The trend is definitely accelerating," says Cameron Brandt, director of research at EPFR.
U.S. investments going to Europe thru mid-March have already outpaced February's total and are triple the size of January's figure.
Here's why investors are flocking to Europe: 
Europe's stock success: It's no secret that European stocks are hot right now. Since the European Central Bank announced its stimulus plan for the continent in January, markets have surged.
The STOXX index is up 16% this year while Germany's DAX  has risen 21% in 2015. Markets in Belgium, Sweden and even Spain -- yes, Spain! -- are doing great so far too where as the U.S. markets, which are up just over 1% so far this year. As U.S. stocks look pricey, investors see more upside potential across the pond.
Kevin Kelly, portfolio manager at Recon Capital said :
"It's time for Europe to play catch up,"  which holds investments in Europe. "That's why you're seeing investors and funds flow into Europe."
The stimulus plan has weakened the value of the euro , and at the same time the U.S. dollar is  gaining value . The euro has rallied a bit this week , but it's still near 12-year lows. Many believe the dollar and euro could be equal later this year.
The currency situation makes European companies more attractive to investors because their products are cheaper to sell than American companies' products. European exports are on the rise, and the eurozone economy is showing signs of a pick up.
Problem is not with Europe but with Euro : There's just one problem for American investors looking to cash in on Europe right now: the euro. A 16% return for European stocks in euros doesn't look so good when you translate that back to U.S. dollars.
That's why investors are looking for ways to protect against a further decline in the euro. 
Comments by readers on Yahoo Finance :
"Understandable. Much of Western Europe and all of Northern Europe have a higher living standard than any other place on earth. Recent EU economic troubles provide lower prices and a buying opportunity. Their worst day is better than our best day and their civilizations are ten times older than ours. "