One of the lingering economic debates concerns productivity growth.
Despite reports we see nearly every day that robots are taking jobs (a fact that should make productivity rise) something has gone amiss.
Productivity is measured as the output of goods and services per hour worked.
Productivity growth slowed dramatically since 2011.
US Nonfarm Productivity
(Click on image to enlarge)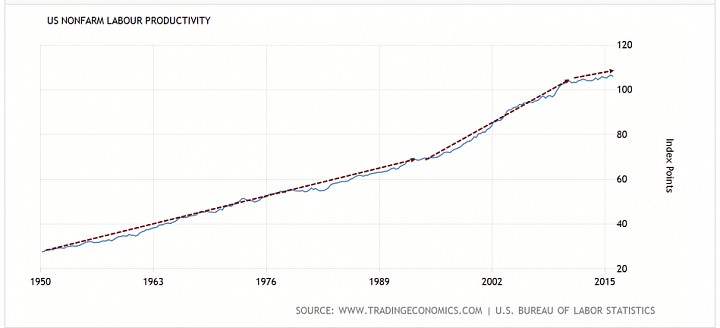 Too Many Stores and Too Much Mall Space?
The Wall Street Journal reports Department Stores Need to Cull Hundreds of Sites, Study Says.
Disclaimer: The content on Mish's Global Economic Trend Analysis site is provided as general information only and should not be taken as investment advice. All site content, including advertisements, shall not be construed as a recommendation to buy or sell any security or financial instrument, or to participate in any particular trading or investment strategy. The ideas expressed on this site are solely the opinions of the author(s) and do not necessarily represent the opinions of sponsors or firms affiliated with the author(s). The author may or may not have a position in any company or advertiser referenced above. Any action that you take as a result of information, analysis, or advertisement on this site is ultimately your responsibility. Consult your investment adviser before making any investment decisions.
How did you like this article? Let us know so we can better customize your reading experience. Users' ratings are only visible to themselves.
Department stores need to close hundreds of locations if they want to regain the productivity they had a decade ago, according to new research from Green Street Advisors.

The real-estate research firm estimates that the closures could include roughly 800 department stores, or about a fifth of all anchor space in U.S. malls.

Sears Holdings Corp...
More