The Standard & Poor's 500 Index fell after Brent crude dipped below $100 for the first time since June 2013 on concern of a supply surplus. The dollar rallied and gold sank.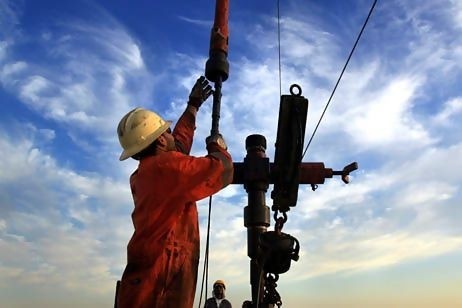 The S&P 500 fell 0.3 percent at 4 p.m. in New York after ending last week at an all-time high. The Nasdaq Composite Index added 0.2 percent as Yahoo! Inc. rallied to an eight-year high. Brent fell to a 16-month low, while U.S. crude dropped to the lowest since January. Yields on 10-year Treasuries rose one basis point to 2.47 percent, reversing earlier losses. Gold fell to a 12-week low and the Bloomberg Dollar Spot Index rose to the most in more than a year.
China's trade surplus climbed to a record in August, as imports fell for a second month, bolstering concern there's a global oil surplus. Energy shares sank the most in the S&P 500. (SPX) A poll for the Sunday Times showed a majority of voters in Scotland in favor of breaking from the U.K. European Union governments put on hold new sanctions against Russia, highlighting hopes that a cease-fire in Ukraine will hold.
"You have five weeks of S&P growth, we may be in the overbought territory," Bruce Bittles, chief investment strategist at Milwaukee-based RW Baird & Co., which oversees $110 billion, said in a phone interview. "You generally don't continue to grow forever."
Energy Rout
The S&P 500's drop today comes after a five-week rally pushed the benchmark gauge to an all-time high, as investors speculated weaker jobs growth will keep the Federal Reserve from raising interest rates.
The gauge trades at 18.1 times the reported earnings of its members, near the highest level in four years. It hasn't posted a four-day streak of losses in all of 2014 and the last time it fell more than 10 percent was three years ago.
Energy shares plunged 1.6 percent as a group, for the biggest decline among 10 main industries in the index today. Exxon Mobil Corp. sank 1.5 percent and Chevron Corp. lost 0.9 percent. Ford Motor Co. (F) slipped 2 percent after Morgan Stanley downgraded the shares of the automaker.
Yahoo! Inc. climbed 5.6 percent to the highest since 2006 after Alibaba Group Holding Ltd. said it plans to raise as much as $21.1 billion in an initial public offering. Yahoo owns 22 percent of the Chinese e-commerce company. Facebook Inc. climbed 0.8 percent to finish the day with a market capitalization of more than $200 billion.
The index extended declines in afternoon trading after an NBC affiliate in Florida reported a possible Ebola case at an area hospital, citing the U.S. Centers for Disease Control and Prevention. Shares recouped some of the losses after the patient tested negative, according to a report from the Washington Post.
Oil Supplies
Brent has tumbled 13 percent since June 19 as economies from Europe to Asia show signs of slowing while oil output in Libya and the U.S. climbs. The European benchmark fell 0.6 percent to settle at $100.20. It earlier fell below $100 a barrel for the first time since June 2013.
Growth in China, the biggest oil consuming country after the U.S., will drop to 7.4 percent this year, according to economist estimates compiled by Bloomberg. Libya, holder of Africa's biggest crude reserves, is pumping 720,000 barrels a day, up from a monthly average of 400,000 a day in July.
"The oil market is looking weaker from a fundamental perspective," Michael Cohen, an analyst at Barclays Plc in New York, said by phone. "Production continues to rise while demand is looking soft."
The pound fell 1.3 percent to $1.6121 and reached $1.6103, the weakest since Nov. 21. The decline was the biggest since July 2013 on speculation Scotland will vote for independence.
Yes Campaign
Shocked into action by a poll showing the Yes campaign ahead for the first time this year just 10 days before a referendum on independence, all three main U.K. parties said they would cede more control over the levers of policy making to the Scottish Parliament in Edinburgh. Scots nationalist leader Alex Salmond dismissed the move yesterday as a "bribe" that wouldn't sway voters in the Sept. 18 ballot.
"There seems to be plenty of scope for further pound declines, given the pronounced degree of uncertainty and unknowns related to a breakup," Derek Halpenny, the head of global-markets research at Bank of Tokyo-Mitsubishi UFJ Ltd. in London, wrote in e-mailed comments. "A 'Yes' victory is still hardly priced as this only has become a focus since the middle of last week, when we had the first surprise poll. I see little upside for the pound now through to Sept. 18."
The Bloomberg Dollar Spot Index, which tracks the greenback against 10 major peers including the pound, added 0.7 percent to the highest in 14 months. The gauge climbed 0.9 percent last week, its third consecutive weekly advance. The dollar rose 0.4 percent to $1.2903 per euro. It touched $1.2882, the strongest level since July 10, 2013.
Less Uncertain
Fed Bank of San Francisco researchers said in a report low volatility across financial markets may signal investors underestimate the speed of rate increases.
Investors also appear "less uncertain" about the future course of monetary policy than Federal Open Market Committee members, Jens Christensen, a senior economist, and Simon Kwan, a vice president of financial research, said in a report today.
Ten-year Treasury (USGG10YR) yields erased earlier declines to trade at a one-month high, as the notes resumed a slide that sent them to their biggest weekly loss since March. U.S. government securities are heading for their biggest annual advance since 2011, supported by demand due to unrest in Ukraine and the Middle East.
The yield on 30-year U.K. gilts climbed to 3.138 percent. Two-year notes rallied, pushing yields four basis points lower to 0.77 percent, amid speculation a Scotland breakaway would encourage the Bank of England to keep interest rates lower for longer.
Oil Slide
Brent crude slipped to as low as $99.36 a barrel in London, the lowest since May 1, 2013. The last time it traded below $100 was June 24, 2013. West Texas Intermediate for October delivery fell to as low as $91.80 a barrel in New York, the lowest since Jan. 14.
China's slowing imports reinforced signs of a surplus supply. The country's trade surplus climbed to a record in August as exports rose on the back of increased shipments to the U.S. and Europe, while imports fell for a second month as a property slump hurt domestic demand.
Trading venues in mainland China and South Korea were closed today. Markets in Hong Kong are closed for a holiday tomorrow, when the mainland resumes trading. South Korea doesn't reopen until Sept. 11, with markets shut for the Harvest Moon festival. Taiwan is also shut today.
Ukraine Tension
Russia's ruble slid 0.3 percent to 36.9686 per dollar and was little changed against the euro at 48.077. The Micex Index in Moscow was 0.7 percent lower after surging 5.3 percent last week, the most since March.
While Ukraine and pro-Russia rebels agreed to a cease-fire Sept. 5, Ukraine said today its army positions were being shelled as the United Nations human rights chief said the conflict has claimed at least 3,000 lives since mid-April.
Nickel for delivery in three months rose as high as $19,920 a metric ton in London, the highest since July 3. The metal extended the longest winning streak in two months amid concern that thePhilippines will fall. Nickel from the Philippines is used to make nickel pig iron in China.
Gold futures for December delivery fell 1 percent to $1,254.90, the lowest for the most-active contract since June.
Milk futures rose to a record as exports by the U.S. climbed amid shrinking inventories of cheese and butter, signaling higher costs for pizza and pastries.
http://www.bloomberg.com/news/2014-09-07/pound-slides-on-scotland-gold-holds-gains-after-payrolls.html