Over the last several months, we've documented a series of revelations that have come to light regarding 1MDB, the Malaysian development bank that got its start with the help of several influential Goldman bankers with ties to Malaysian political figures and now threatens to derail the career and destroy the legacy of PM Najib Razak. 
For the sake of brevity, we won't recount the entire story (you can read more here, here, and here), but in short, Goldman underwrote a total of $6.5 billion in private placements for the fund (which was set up by Najib) and took the bonds onto its own balance sheet at a discount with the intention of selling them later at a profit. 1MDB then made a series of questionable investments and ultimately, some $700 million ended up in bank accounts linked to the PM. 
This led to calls for Najib's ouster (most notably from former PM and the "father" of modern Malaysia Mahathir Mohamad) and street protests.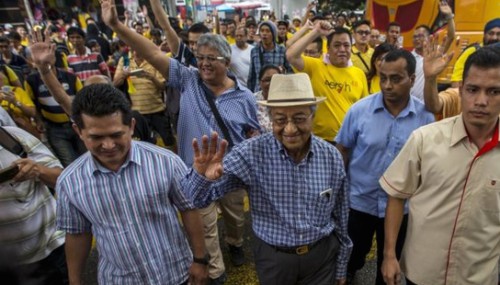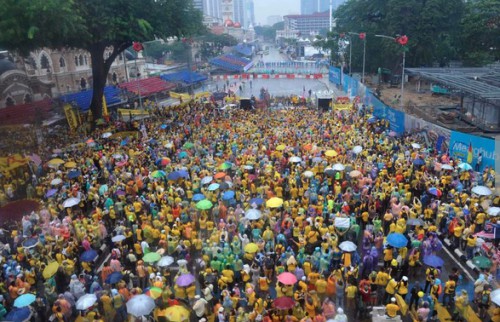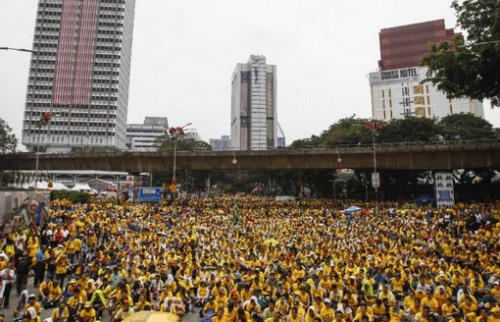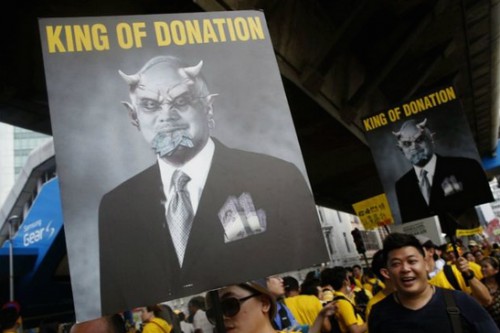 Everyone from the Swiss authorities to the UAE to the FBI are probing the fund for evidence of malfeasance. Abu Dhabi, for instance, recently went looking for billions in collateral payments it supposedly received from the fund in exchange for guaranteeing $3.5 billion in bonds and couldn't find the money. A subsidiary of an Abu Dhabi SWF which apparently lost track of the cash also guaranteed $2.3 billion in funds that 1MDB claims to be holding in Cayman Islands accounts. 
Put simply, this looks like it was nothing more than a slush fund from which everyone involved was skimming. Well now, an obscure Australian firm called Avestra Asset Management has been drug into the fray. WSJ - who has generally been the source for most of the breaking news on 1MDB this year - has more:
Regulators there are liquidating a little-known firm called Avestra Asset Management, saying it put its clients' money at risk in questionable investments.

 

Avestra focused on Malaysian penny stocks and obscure merger finance, according to a copy of an affidavit by the Australian Securities and Investments Commission reviewed by The Wall Street Journal. But it also had a key role in managing $2.32 billion for state-owned fund 1Malaysia Development Bhd., according to a person familiar with the matter and testimony in June by 1MDB's auditor before a Malaysian parliamentary committee.

 

That money flowed from 1MDB's first major investment, a joint venture with a Saudi oil company in 2009 that never found any oil and was soon wound down. 1MDB says the money was reinvested in a Cayman Islands fund. But government critics in Malaysia, including a former prime minister, have repeatedly demanded proof that the money is actually in the fund and want to know why it has circulated among various offshore companies for years without being returned to the country at a time when 1MDB is struggling to repay $11 billion in debt.

 

Now it appears the money ended up being overseen by a firm that is being shut down by Australian authorities, adding another layer of questions to the long-running debate.

 

The investigation into Avestra and those involved in it is ongoing, according to a person familiar with the matter.

 

The disputed deal involved a joint venture set up in 2009 with a Saudi Arabian company called PetroSaudi International Ltd. that would invest in energy projects around the world. But it quickly generated controversy.

 

The 1MDB fund was supposed to invest $1 billion into the joint venture. A draft report into 1MDB by the auditor general, however, found this year that $700 million of the $1 billion investment went into "another account not related to this joint venture" and "without the approval" of the 1MDB board. The venture never produced any oil and was wound down the following year.

 

In 2012, 1MDB put $2.32 billion of what it said were proceeds from its PetroSaudi investment into a Cayman Islands-registered entity called Bridge Global Absolute Return Fund SPC. According to 1MDB, that money included its initial $1 billion investment, plus a later investment of about $800 million and profits it earned in the venture. The Bridge Global fund was set up only weeks before it received the 1MDB money, according to documents from the Cayman Islands corporate registry that don't say who set it up.

 

In testimony in June to the parliamentary committee investigating 1MDB, a representative from current auditor Deloitte Touche Tohmatsu Ltd. said the money in Bridge Global at that time was managed by Avestra. Australia's regulator says Avestra became an "investment adviser" to Bridge Global in March 2014. It is unclear whether Avestra had any prior connection to Bridge Global or if it still has a role at the Cayman Islands fund.

 

Australian regulators aren't looking into the relationship with 1MDB but instead at whether retail investors may be at risk. They allege Avestra hid its investments from Australian regulators by routing them through the Bridge Global fund, where 1MDB had invested its money.

 

Soon after, 1MDB used its investment in Bridge Global as collateral for a $975 million loan from a group of banks including Deutsche Bank. Questioning its collateral after already giving the loan, the banks pressed 1MDB to pay back the loan just nine months after it was issued, according to Malaysia's finance ministry.

 

The Abu Dhabi firm IPIC stepped in again. It agreed to take over some of 1MDB's debt, including the Deutsche Bank loan, in return for equity, under the terms of an agreement signed in May with the Malaysian fund.
Got that? 1MDB apparently tried to form some kind of ill-fated joint venture with Saudi Arabia and when that didn't pan out, they claimed that the money they invested (plus some "proceeds") was in the Cayman Islands. KPMG didn't buy it, so 1MDB fired them and convinced a subsidiary of an Abu Dhabi SWF to vouch for the Cayman Islands money in order to secure an audit signoff from new auditor Deloitte.  
The fund then used these (possibly non-existent) funds to secure a $1 billion loan from Deutsche Bank which is now held by the same Abu Dhabi SWF subsidiary which guaranteed the Cayman Island account and which now can't find more than $2 billion in collateral payments it supposedly received for guaranteeing 1MDB bonds. 
Topping it all off, the $2.3 billion supposedly held in The Cayman Islands was partially managed by an Australian firm that specialized in Malaysian penny stocks. 
Nope, nothing fishy about any of that. 
Obviously the rabbit hole is just going to get deeper and deeper and deeper here and WSJ seems hell bent on getting to the bottom of it which means that by the time this is over, we'll probably find out that Najib and a few other Malaysian politicians know a lot more about this than they're letting on and as we've repeated over and over, none of this bodes well for the country's near-term outlook. The market hates uncertaintly and the 1MDB scandal makes for an extraordinarily uncertain political environment. But don't worry, Najib is going to get some answers as to how a quarter of a billion dollars ended up in his personal accounts:
"All these investigations are ongoing, and we will get answers."