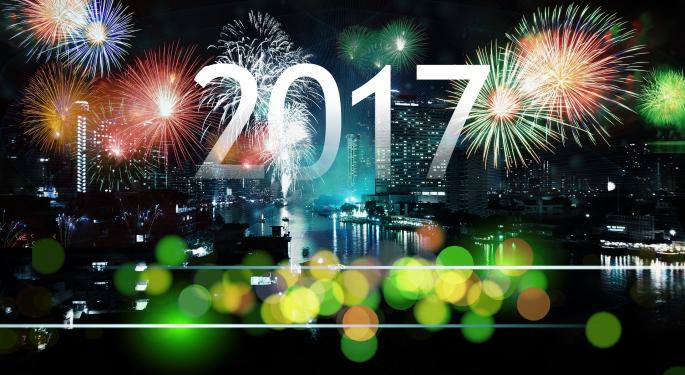 The SkyBridge Alternatives Conference (SALT) is a congregation of experts in various sub-industries throughout the United States, each of whom have come together to facilitate balanced discussions and communication.
Richard Chilton
Richard Chilton's stock pick for 2016, and for the next six to seven years, is Sherwin-Williams Co SHW 1.02%. He said, "Paint is a good business, and Sherwin-Williams is a business that can grow organically without a lot of capital expenditures." Currently, the stock trades around $294.
Sherwin-Williams has grown at 7.4 percent CAGR, 12.8 percent EBITDA with free cash flow growth of 9.3 percent. The company is also buying back shares without issuing debt.
Sherwin and The Valspar Corp VAL 0.02% are complementary businesses that have extreme synergies. Sherwin is a leader in home paint and Valspar leads the world in industrial coatings used in applications like coating the inside of aluminum cans.
Related Link: SALT 2016: John Boehner Talks Real Issues In Real America
John Lykouretzos
John Lykouretzos of $2.8 billion Hoplite Capital Management came out with his view of the U.S. Airline Industry, saying, "It's not different this time." He anticipates numbers will fall over the next 36 months, and he's short American Airlines Group Inc AAL 0.57%.
EBIT margins have gone up since deregulation, and in his opinion, the growth story is over. After seven years of rallying, margins will come back to long-term averages. Labor unions have also grabbed a larger share of economic rents with guaranteed raises built into contracts over the coming years.
Operating costs for legacy carriers, like Delta Air Lines, Inc. DAL 1.29%, United Continental Holdings Inc UAL 0.14% and American are significantly higher than low cost carriers like Spirit Airlines Incorporated SAVE 1.68% and Southwest Airlines Co LUV 0.82%. As these low cost carriers come in with their newer, more efficient aircraft and more manageable labor contracts, they will be able to undercut the major airlines.
As airlines add capacity in the coming years like they should, Lykouretzos believes capacity will exceed demand, driving down prices.
John Burbank
John Burbank of $4.1 billion Passport Capital cited a pair trade as his investment idea of the year: long Tencent Holdings Ltd TCTZF 1.11% and short iShares FTSE/Xinhua China 25 Index (ETF) FXI 1.61%. He believes valuations like the current P/E are trading at a big discount. Ten (10) percent of its market cap is in listed securities of other companies it owns.
He added, "Analysts who cover it, don't understand the upside from monetizing mobile ads. Our numbers for earnings are 30 percent higher than the street." Currently, only 17 percent of revenue comes from advertising.
Macro fears have kept Tencent from making new highs, and as the Chinese devaluation occurs, that can be captured through the FXI short. FXI has 50 percent of its market cap exposed to Chinese financials.
Jim Chanos
Famous for short selling, manager Jim Chanos spoke about the "LNG Pipedream." His short for 2016 is Cheniere Energy, Inc. LNG 2.19%.
He said the bull case is built on hopes, and the pipedream is dead. Bulls rationale consists of no pricing risk because of the take or pay contracts, there is 100 percent Cheniere utilization, the cost to build plants is comparatively cheap and it is only a fractional of the global share.
Chanos explained, "Look, if you believe all the bull projections, Cheniere is still expensive compared to its peers."
He elaborated that refiners typically set aside 5 percent of capital for capex maintenance. Cheniere is living in a fantasy land where that will actually decrease as it scales production, building plants and increasing headcount.
Chanos added, "Taking on debt will make it the most leveraged Cheniere play in the world. Any way you cut it, Cheniere is trading more than two times that of less leveraged and more established peers."
His finals words were, "This is financial engineering gone crazy, not financial analysis."
© 2016 Benzinga.com. Benzinga does not provide investment advice. All rights reserved.