On Monday, April 25, Indian benchmarks showed negative performance for the second session in a row on Asian cues. Notably, investors await meetings of the US Fed and the Bank of Japan.
Notably, the odds of the Fed raising rates at its next meeting are estimated at 3%. Meanwhile, earlier the Bank of Japan said it might start issuing loans to lenders at negative interest rates.
The Nifty 50 slid 0.56% to 7,855.05, while the BSE Sensex 30 dipped 0.62% to 25,678.93.
On the Nifty 50, Bharti Airtel and Tata Consultancy Services outperformed the broader market, adding 1.66% and 1.41%, respectively. Cairn India and Hindalco Industries paced the losses, contracting 4.35% and 2.67%, respectively.
On the BSE Sensex 30, Bharti Airtel topped the gainers, climbing 1.63%. Vedantaledthedecliners, decreasing 2.67%.
Energy company NTPC was off 2.30%, the most in the last three weeks.
Reliance Industries fell 2.12%, touching a five-week low.
Steel company Tata Steel dropped 1.75%, down for the third consecutive session.
Housing Development Finance underperformed the broader market, hitting a two-week low.
Bharat Petroleum showed positive performance, reaching an all-time high. Thenamewas 1.28% higherat 978.30.
On the currency market, USD/INR was flat at 66.661, while EUR/INR inched up 0.20% to 74.9890.
In addition, the India VIX, the Nifty 50 option prices index, rose 1.18% to 16.5725.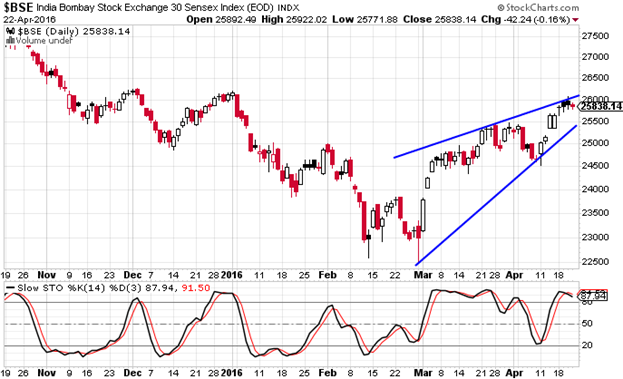 From a technical standpoint, on the daily chart the BSE Sensex 30 traded within a rising wedge. Stochastic lines have reversed downside in overbought territory and are about to start sending out sell signals.