The USD/CHF has been bullish throughout most of July, pushing to a new high since April 22 at 0.7819. Then, it closed the week with a sharp retracement that broke a key intra-week pivot around the 0.96 handle. 

USD/CHF 4H chart 8/1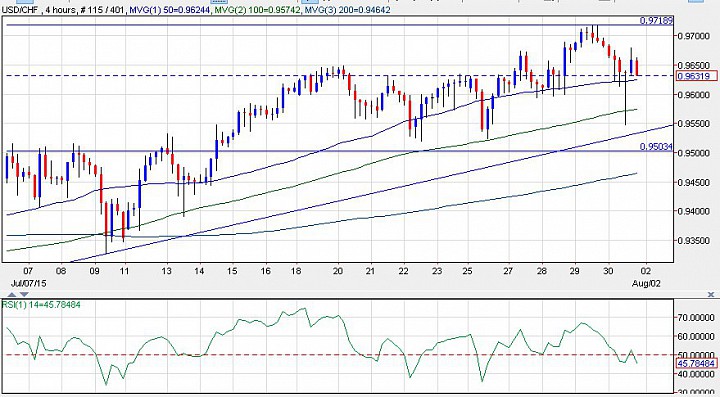 (click to enlarge)

The 4H USD/CHF chart shows that despite the Friday correction, the pair is still bullish. Price is still above the 200-, 100-, and 50-period simple moving averages (SMAs) and the 4H RSI has held above 40 for the most part after pushing above 70. 

Now, even if price does slide a bit further and even if the RSI breaks below 40, we should still  be bullish as long as price holds above the 0.95 handle next week. If we see price creep below 0.95 and rebound sharply, we can still accept it as a sign that USD/CHF is still bullish in the medium-term. 

The thing is, if price fails to climb back above 0.96, we would have a strong sign of a pending bearish correction.

USD/CHF Daily Chart 8/1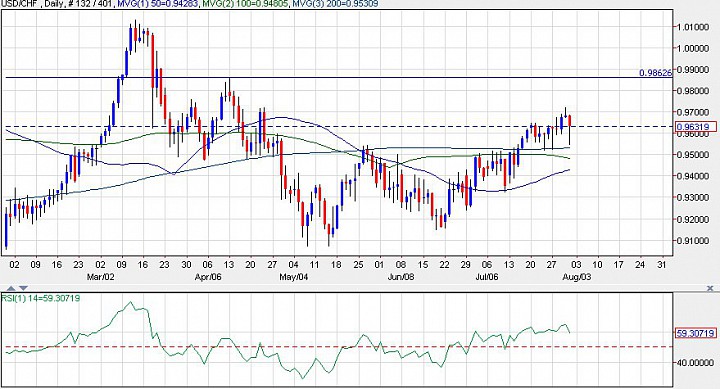 (click to enlarge)

The daily chart shows a market trying to revive an uptrend. However, the market is considered sideways, so let's limit the bullish outlook. The next key resistance area above the current one at 0.9719 will be the 0.9862 April high, and then the 1.00 psychological level. However, if price closes below 0.95 next week, we might have to replace the bullish outlook with a possible bearish continuation attempt, especially if a subsequent pullback fails to close above 0.96.