The chemical industry has clawed its way back from the trough of the Great Recession. The highly cyclical industry put up a commendable performance in first-quarter 2017. A host of companies in the space posted better-than-expected earnings in the quarter, driven by strength in key chemical end-use markets and strategic measures including productivity improvement, pricing actions and earnings-accretive acquisitions.

The bullish Zacks Industry Rank of 37 carried by the Zacks categorized Chemicals-Diversified industry testifies that the chemical industry is in fine fettle. An impressive rank places the industry in the top 14% of the 250+ groups enlisted.

The Chemicals-Diversified industry has also outperformed the broader market over the past year. The industry has gained 21.6% over this period, higher than S&P 500's corresponding return of 14%.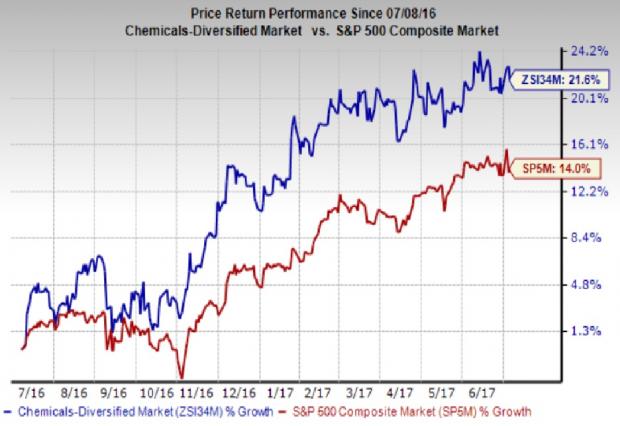 While the chemical industry still faces some challenges, its healthy momentum is expected to continue in the back half of 2017. The U.S. chemical industry remains on course for solid growth this year and the next. The American Chemistry Council (ACC), an industry trade group, envisions accelerated growth for the domestic chemical industry on the back of an improving global economy and a surge in shale-linked capital investment.

The European chemical industry is also showing signs of recovery after remaining in a rut for long. The business environment for the European chemical industry improved during the first quarter on the back of improving global economic sentiment.

In this write up, we run a comparative analysis on two prominent chemical payers – Eastman Chemical Company EMN and Albemarle Corporation ALB – to figure out which one is a better option for investment right now.

Eastman Chemical, sporting a Zacks Rank #2 (Buy), is a global chemical company boasting a broad portfolio of chemical, plastic, and fiber products with a market capitalization of $12.2 billion. Albemarle, also a Zacks Rank #2 stock, has a market capitalization of around $12 billion and is a premier specialty chemicals maker with leading positions in attractive end markets globally.

Let's take a closer look at how Eastman Chemical and Albemarle are stacked up against each other in terms of certain key metrics.

Price Performance

Eastman Chemical has gained 24.8% over the past year while Albemarle's shares have rallied 32.9%. While both stocks have outperformed the Chemicals-Diversified industry over the same period, Albemarle clearly scores above Eastman Chemical.
Leverage & Liquidity

Albemarle has a lower leverage as evident by its debt to equity ratio of 0.37 compared with Eastman Chemical's debt to equity ratio of 1.39.
In terms of liquidity (as determined by the current ratio), Albemarle also holds an edge over Eastman Chemical. The current ratio for Albemarle is 1.98 compared with 1.93 for Eastman Chemical.

Valuation

Going by the EV/EBITDA (Enterprise Value/ Earnings before Interest Tax Depreciation and Amortization) multiple, a preferred valuation metric for cyclical industries like chemicals, Eastman Chemical looks cheaper compared with Albemarle.

In case of Albemarle, the trailing 12-months EV/EBITDA multiple is 14.45, higher than the Chemicals-Diversified industry average trailing 12-months EV/EBITDA multiple of 10.72. On the other hand, Eastman Chemical is much cheaper with a trailing 12-month EV/EBITDA of 8.92.

Return on Equity (ROE)

ROE is a measure of a company's efficiency in utilizing shareholder's funds. ROE for the trailing 12-months for Eastman Chemical and Albemarle is 22.2% and 12%, respectively. While both stocks have scored below the industry's level of 22.8%, Eastman Chemical holds an edge here.

Earnings Surprise History

Taking a look at both the companies surprise history, Albemarle has outpaced the Zacks Consensus Estimate in each of the trailing four quarters, with an average positive earnings surprise of 8.97%. On the other hand, Eastman Chemical has delivered positive earnings surprises in the three of the trailing four quarters, generating an average positive earnings surprise of 4.21%.

Estimate Revisions & Growth Expectations

Over the past 60 days, Eastman Chemical's estimates for the current year has edged up 0.1% to $7.49 per share. On the other hand, Albemarle's estimates for the current year increased 1.2% over the same period to $4.33.

The expected earnings per share growth rate for Eastman Chemical for the current year currently stands at 10.85% compared with an expected increase of 21.20% for Albemarle. Also, Albemarle has an expected long-term earnings growth of 14.4%, much higher than Eastman Chemical's 7.9%. As such, Albemarle is a clear winner in terms of earnings growth expectations.

In Conclusion

Our comparative analysis shows that Eastman Chemical holds an edge over Albemarle in terms of valuation and ROE measures. However, when considering price performance, leverage, earnings surprise history and earnings growth projections, Albemarle seems to be the preferred stock. As the scale is tipped in favor of Albemarle, it makes a better investment proposition compared to Eastman Chemical.

Some Other Stocks to Consider

Apart from Albemarle, investors interested in the chemical space may also consider Kronos Worldwide, Inc. KRO and Innospec Inc. IOSP, both of which carry a Zacks Rank #1 (Strong Buy). You can see the complete list of today's Zacks #1 Rank stocks here.

Kronos has an expected earnings growth of 354.8% for the current year.

Innospec has an expected earnings growth of 7.9% for the current year.

Will You Make a Fortune on the Shift to Electric Cars?
Here's another stock idea to consider. Much like petroleum 150 years ago, lithium power may soon shake the world, creating millionaires and reshaping geo-politics. Soon electric vehicles (EVs) may be cheaper than gas guzzlers. Some are already reaching 265 miles on a single charge.

With battery prices plummeting and charging stations set to multiply, one company stands out as the #1 stock to buy according to Zacks research.

It's not the one you think.

See This Ticker Free >>
Want the latest recommendations from Zacks Investment Research? Today, you can download 7 Best Stocks for the Next 30 Days.
Click to get this free report
Eastman Chemical Company (EMN): Free Stock Analysis Report
Albemarle Corporation (ALB): Free Stock Analysis Report
Kronos Worldwide Inc (KRO): Free Stock Analysis Report
Innospec Inc. (IOSP): Free Stock Analysis Report
To read this article on Zacks.com click here.
Zacks Investment Research