StockTwits Released Yesterday
NASDAQ 100 Index entering a seasonally strong period that stretches to the middle of July.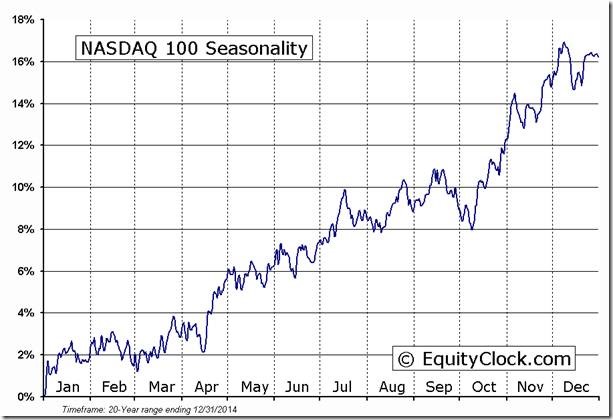 Editor's Note: Apple and large cap Semiconductor stocks/ETFs are leading the sector.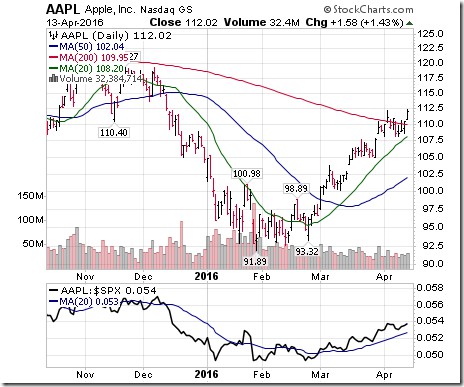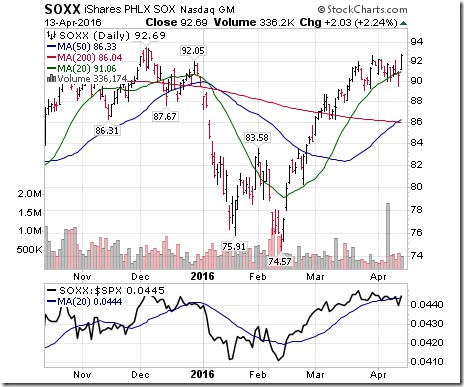 Technical action by S&P 500 stocks to 10:15: Bullish. Breakouts: $GRMN, $AFL, $BLK, $CBG, $JPM, $MTB, $STI, $THC, $CAT, $CTAS, $HON, $TXN, $DOW
Breakout by JP Morgan $JPM after beating consensus earnings triggered breakouts by other financials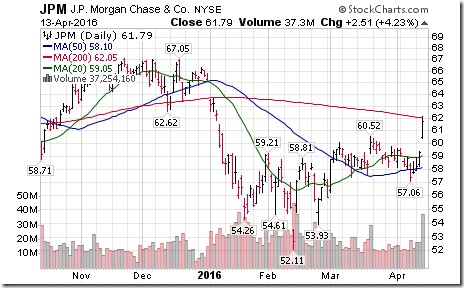 Interesting reverse head & shoulders pattern completed by the Grain ETN on a move above $31.44!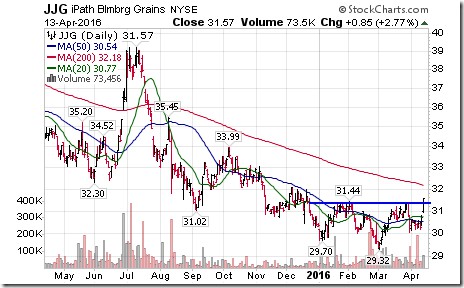 $ZEB.CA broke to a 12 month high after breakouts by $RY.CA $BMO.CA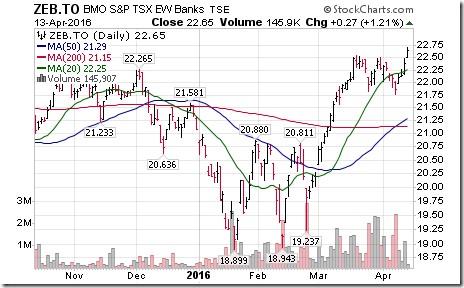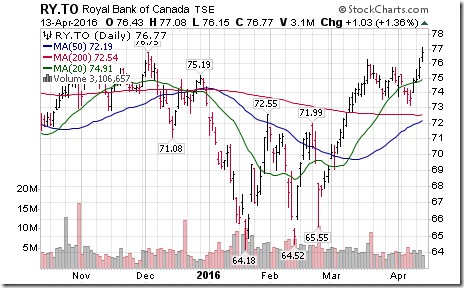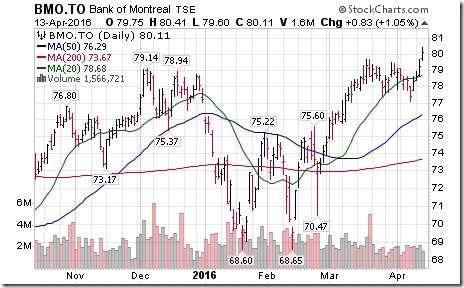 Nice breakout above $17.50 by $CAF, the Fund that closest tracks the Shanghai Composite Index in U.S. Dollars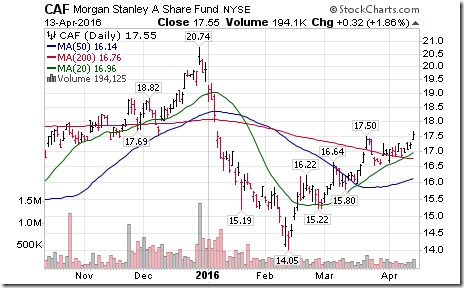 The breakout by Dow Chemical $DOW triggered a breakout by $XLB above $45.74 to a 21 month high.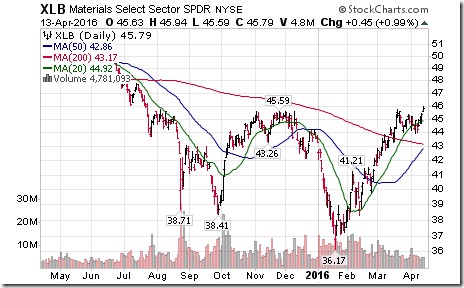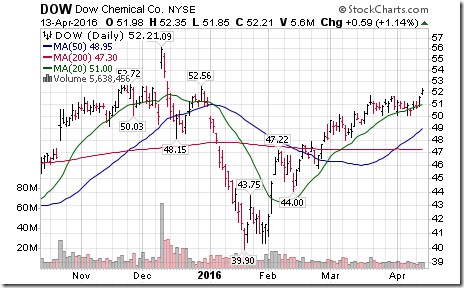 Nice breakout by the S&P/TSX Composite Index above resistance at 13,685.45 to extend an intermediate uptrend.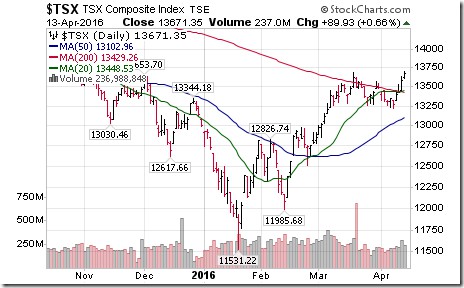 The breakout by Morgan Stanley $MS has prompted breakouts by financial ETFs including $XLF, $KBE, $KRE.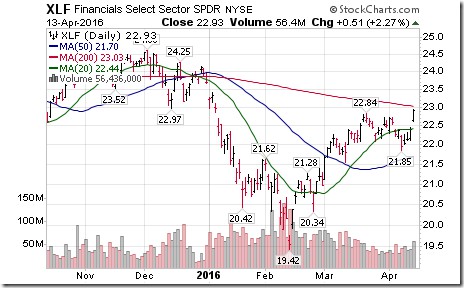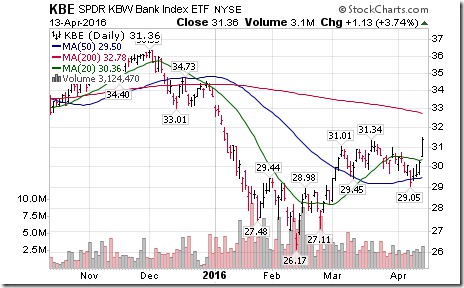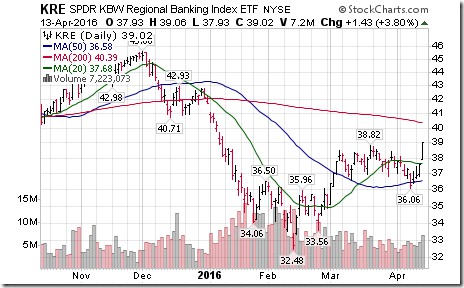 More breakouts by U.S. Financials this afternoon: $C, $CMA, $FITB, $KEY, $USB!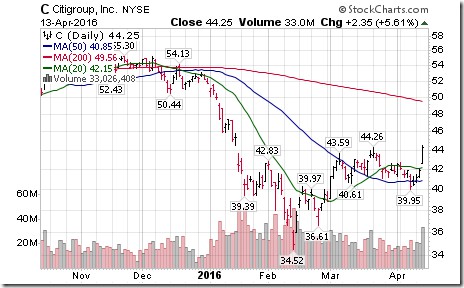 Trader's Corner
Momentum indicators improved significantly for most equity indices and related ETFs
Daily Seasonal/Technical Equity Trends for April 13th 2016
Green: Increase from previous day
Red: Decrease from previous day
Daily Seasonal/Technical Commodities Trends for April 13th 2016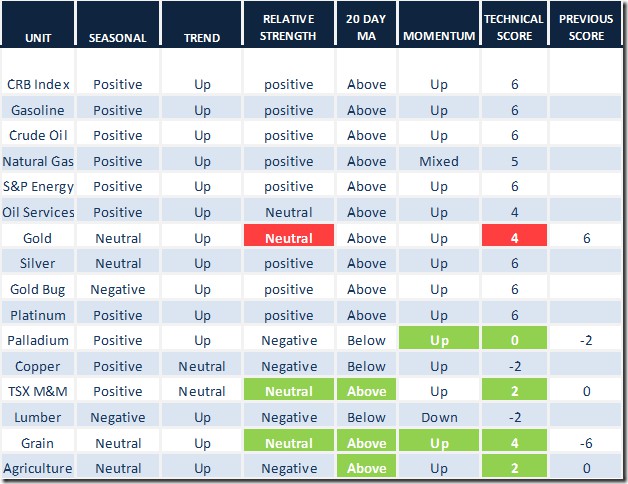 Green: Increase from previous day
Red: Decrease from previous day
Daily Seasonal/Technical Sector Trends for March April 13th 2016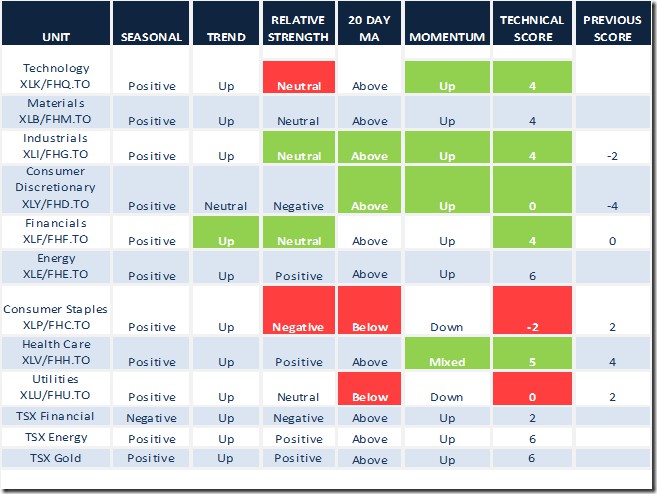 Green: Increase from previous day
Red: Decrease from previous day
Special Free Services available through www.equityclock.com
Equityclock.com is offering free access to a data base showing seasonal studies on individual stocks and sectors. The data base holds seasonality studies on over 1000 big and moderate cap securities and indices. To login, simply go to http://www.equityclock.com/charts/ Following is an example: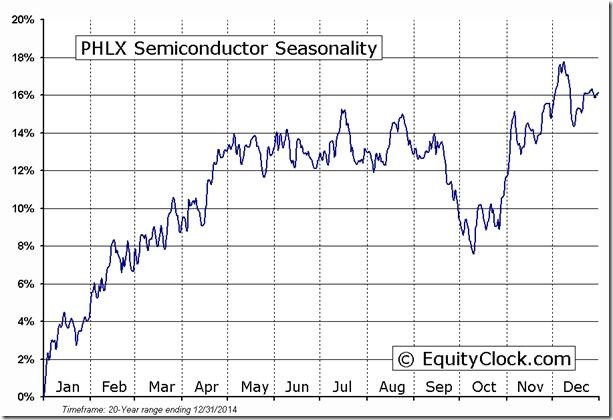 Keith Richards' Blog
Oil could stage phenomenal upside opportunity or just another disappointment for investors next week. Read this blog to find out how to play the possibilities: http://www.valuetrend.ca/oil-a-mugs-game-for-now/
Disclaimer: Seasonality and technical ratings offered in this report by www.timingthemarket.ca and www.equityclock.com are for information only. They should not be considered as advice to purchase or to sell mentioned securities. Data offered in this report is believed to be accurate, but is not guaranteed